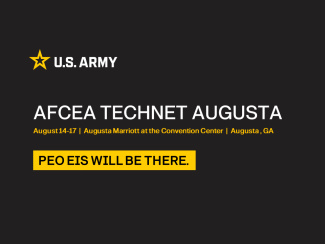 Speakers' Alert!
This event always features outstanding speakers.
Young Bang

will deliver a dynamic keynote about the Army's digital transformation journey.

Ross Guckert will

 be part of a fireside chat that discuss how PEOs are executing digital transformation. Other speakers include

Ms. Jennifer Swanson, the deputy assistant secretary of the Army for data, engineering and software; and PEOs from PEO C3T, PEO IEW&S and PEO STRI.

Col. Jay Shell 

will discuss how the Army will deliver a unified network.

Lt. Col. Dakota Steedsman 

will discuss the Army's cyber requirements.

Sarah Mullins and Gerry Lebel w

ill share insights about the upcoming ITES-4S procurement.
WHO'S GOING?
PEO EIS leaders attending AFCEA TechNet Augusta include (in alphabetical order):
Meet us in Augusta!
Submit our Industry Meeting Request webformto request a meeting with one or more PEO EIS leader. We will accommodate as many requests as possible.