Image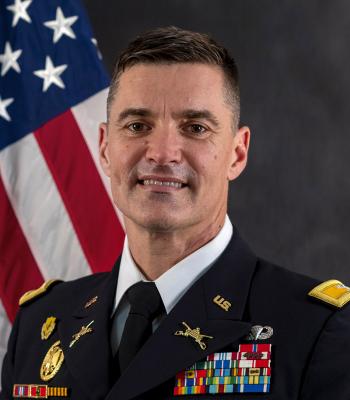 Col. Jay Shell currently serves as the project manager for PEO EIS's Integrated Enterprise Network (IEN) project office — formerly known as Defense Communications and Army Transmission Systems (DCATS) — which enables information dominance from the tactical edge to the home station for the Army, Department of Defense and international partners by acquiring, implementing and sustaining strategic satellite and terrestrial communication systems, and by leveraging technologies to meet current and future requirements.
Before joining PEO EIS in June 2021, Shell served as the chief of staff of the Defense Assisted Acquisition (DA2) Cell within the Joint Rapid Acquisition Cell under the Under Secretary of Defense for Acquisition and Sustainment (USD(A&S)). In that role, he coordinated the DOD-assisted acquisition support to the COVID-19 interagency response, including restocking the Department of Health and Human Services' (HHS) Strategic National Stockpile and overseeing domestic industrial base expansion and on-shoring of key medical supplies and equipment.
Before that, he performed several jobs within the USD(A&S), including Joint Acquisition Task Force COVID-19 ventilator lead; the deputy for ground interdiction; chief of staff to the chief information security officer; and DOD acquisition cybersecurity policy coordinator. Prior to those assignments, he commanded the Army's Abrams Main Battle Tank program — the Army's largest acquisition program with a budget of over $9 billion. In that position, he was responsible for the development, acquisition, fielding and life cycle support of the Army's main battle tank and oversaw programmatic efforts spanning the entire Defense Acquisition System.
Shell's previous Acquisition Corps assignments include executive officer within the office of the Deputy for Acquisition and Systems Management, and Department of Army systems coordinator in the Pentagon, as well as assistant product manager for heavy tactical vehicles at the Detroit Arsenal in Warren, Michigan. Prior to joining the Acquisition Corps, Shell served as brigade executive officer and company tactical officer with the Corps of Cadets, West Point, New York.
Shell's operational assignments include company commander, 1st Battalion, 4th Infantry, Hohenfels, Germany, as well as rear detachment commander and battle captain for 2nd Battalion, 63rd Armor, Vilseck, Germany; executive officer for C Troop, 10th Cavalry, Brigade Reconnaissance Troop; and support platoon leader and tank platoon leader in 1st Battalion, 12th Cavalry, First Cavalry Division, Fort Hood, Texas.
A native of Richmond, Virginia, Shell holds an undergraduate degree from the United States Military Academy and master's degrees in national resource strategy, business administration and organizational psychology from the Eisenhower School for National Security and Resource Strategy, the University of Phoenix and Columbia University, respectively. Shell's awards include the Bronze Star, Defense Meritorious Service Medal, Meritorious Service Medal, Iraqi Campaign Medal, Global War on Terrorism Service Medal and NATO Medal. He is a graduate of Airborne and Air Assault Schools.