Image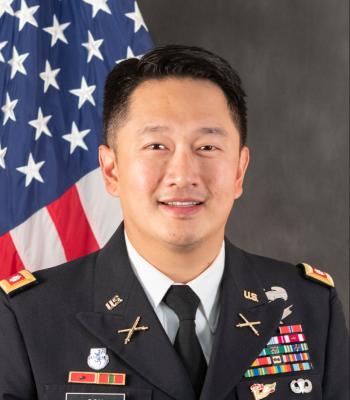 In July 2021, Lt. Col. Bradley Son began serving as product manager, Cyber Platforms and Systems within PEO EIS's Defensive Cyber Operations portfolio.
Son was commissioned in 2004 as a field artillery officer. His first duty assignment was with 1st Squadron, 71st Calvary Regiment, 1st BCT, 10th Mountain Division at Fort Drum, New York, where he served as a fire support officer for Charlie Troop, 1-71 CAV. He deployed to Baghdad, Iraq in support of Operation Iraqi Freedom (OIF) from 2005 to 2006 and, upon his return, was assigned to 3rd Battalion, 6th Field Artillery. He served as a fire direction officer, platoon leader and executive officer for Bravo Battery, 3-6 FA and deployed to Kirkuk, Iraq in support of OIF from 2007 to 2008.
After completing the Field Artillery Captain's Career Course in 2009, Son was assigned to 1st Battalion, 38th Field Artillery, 2nd Infantry Division at Camp Casey, South Korea. He served as a battalion fire direction officer and served as the commander for Bravo Battery, 1-38 FA. Following command, he served as a G3 operations officer for Eighth Army Korea.
Following his assignment in South Korea, Son attended the Army Acquisition Basic Course as well as the Command and General Staff College at Fort Leavenworth, Kansas. He attended Advanced Civil Schooling, earning a Master of Business Administration from George Mason University in 2021. He received his Bachelor of Science in Business Administration from the University of Alabama- Huntsville and a Master of Public Management and a graduate certificate in public acquisition and finance from the University of Maryland - College Park. He holds an advanced Defense Acquisition Workforce Improvement Act certification in Program Management and a foundational/professional certification in Engineering and Technical Management. He is Project Management Professional-certified.
Son's acquisition assignments include: test and evaluation officer at the Maneuver Center of Excellence at Fort Benning, Georgia; assistant program manager with Integrated Personnel and Pay System – Army at Fort Belvoir, Virginia; and division chief, National Reconnaissance Office in Chantilly, Virginia.
Son's awards and decorations include the Bronze Star Medal, the Defense Meritorious Service Medal, the Meritorious Service Medal with oak leaf cluster, the Joint Service Commendation Medal, the Army Commendation Medal with two oak leaf clusters, the Army Achievement Medal with two oak leaf clusters, the National Reconnaissance Office Medal of Meritorious Performance, the Combat Action Badge, the Pathfinder Badge, the Parachutist Badge, the Army Basic Space Badge and the Order of Saint Barbara.