Image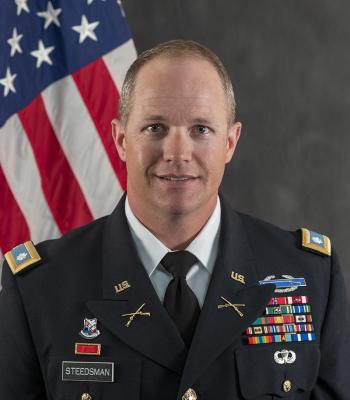 In July 2021, Lt. Col. Dakota Steedsman assumed the responsibilities of product manager for the Cyber Analytics and Detection product office — part of PEO EIS's Defensive Cyber Operations portfolio. In this role, he manages the cost, schedule and performance of four acquisition category IV programs of record. His efforts provide the framework for acquiring mission-critical information technology to defend the Department of Defense Information Network.
Before joining PEO EIS, Steedsman served as an operations officer for a special mission unit with a special management division at the Pentagon. Prior to that, his acquisition assignments included serving as assistant product manager (APM), Gunshot Detection and Vehicle Optics Sensor System at PEO Intelligence, Electronic Warfare and Surveillance; and APM, Maneuver Precision Targeting Systems, PEO Soldier at Fort Belvoir, Virginia.
Before joining the Army Acquisition Corps in 2011, Steedsman was an infantry officer who conducted multiple deployments. His first active-duty assignment was with 3rd Brigade "Broncos," 25th Infantry Division (ID) (L) at Schofield Barracks, Hawaii where he deployed to Afghanistan in support of Operation Enduring Freedom. Following his Hawaii assignment, he was assigned to 4th Brigade Combat Team "Spartans," 25th ID (ABN) at Fort Richardson, Alaska and deployed to Iraq in September 2006, where he served as a platoon leader for an explosive ordnance disposal security platoon; as the executive officer for the brigade's headquarters and headquarters company; and as brigade battle captain in support of Operation Iraqi Freedom.
Steedsman was commissioned as a second lieutenant in May 2001 after completing the Early Commission Program at New Mexico Military Institute. His first duty assignment was platoon leader, B Company, 297th Infantry (Scouts), Alaska Army National Guard until the completion of his bachelor of business degree at the University of Alaska, Anchorage. Steedsman entered active service as a first lieutenant in January 2004 and attended the Infantry Officer Basic Course. After completing the Infantry Captain's Career Course, Steedsman served as the assistant S3, 1-327th Infantry Regiment "Bulldogs," 1st BCT "Bastogne," 101st ID (ABN) at Fort Campbell, Kentucky. He commanded D Company "Maddogs," 1-327th Infantry Regiment, 1st BCT "Bastogne," 101st ID (ABN), deploying to Combat Out-Post Michigan, Pech River and Korengal Valley, Kunar Province, Afghanistan in support of Operation Enduring Freedom.
Steedsman also attended the Army Acquisition Basic Course in Huntsville, Alabama. Following completion of Command and General Staff College and the Acquisition Intermediate Qualification Course, Steedsman attended Advanced Civil Schooling, earning a master of science in management from Minot State University. He holds an advanced Defense Acquisition Workforce Improvement Act Level certification in Program Management. Steedsman also attended the Defense Strategic Debriefing Course at Fort Huachuca, Arizona.
Steedsman's awards and decorations include the Bronze Star Medal with oak leaf cluster, the Defense Meritorious Service Medal, the Meritorious Service Medal with two oak leaf clusters, the Army Commendation Medal with two oak leaf clusters, the Joint Service Achievement Medal, the Army Achievement Medal, the Naval Achievement Medal, the National Defense Service Medal, the Afghanistan Campaign Medal with two campaign stars, the Iraq Campaign Medal with two campaign stars, the Global War on Terror Expeditionary Medal, the Global War on Terror Service Medal, the Army Service Ribbon, the Overseas Service Ribbon with four numeral device, the NATO Medal, the Meritorious Unit Commendation, the Combat Infantryman's Badge and the Parachutist Badge.