Image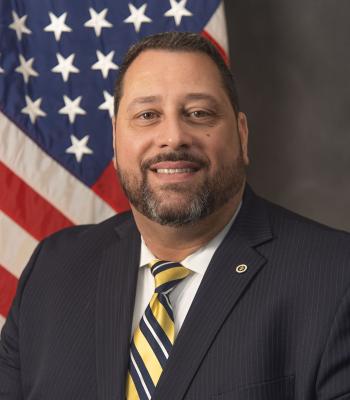 EJ Wasikowksi serves as the product lead for Land Mobile Radio (LMR) within PEO EIS' Integrated Enterprise Network (IEN) portfolio. In this position, he is responsible for overseeing a team that modernizes Army CONUS and Pacific non-tactical LMR systems in support of installation public safety organizations and functions, including first responder, force protection and other installation management functions. 
Wasikowski began his career in the United States Marine Corps, serving 22 years as a senior enlisted Marine with duties at Camp Pendleton, California; Okinawa, Japan; and the Republic of Korea. He also served in several campaigns in Southwest Asia and the Pacific.
After retiring from military service, Wasikowski worked for three years in industry, serving as a senior logistician in support of Marine Corps Systems Command and at PEO EIS. He then joined the Army civilian workforce and served as a project support officer for PEO EIS, providing technical support to the Operations Directorate, Logistics Division and Business Operations Division. He later served as the lead project officer for Strategic/Acquisition Planning, Compliance and Special Projects and was appointed the Base Realignment and Closure (BRAC) Task Force lead/project manager (PM) supporting multiple PMs and directorates impacted by the 2005 BRAC effort and National Capital Region leased space relocation programs.  
Wasikowski then served as the acting deputy to the director of operations and later as the deputy to the director of the G-4. After that, he served as the chief of facilities, services and support for the director of plans and operations. Wasikowski later became the acting deputy project manager for PM Defense Communications and Army Transmission Systems (DCATS — later renamed IEN).  He went on to serve as the director of operations, contracts and logistics at PM DCATS, responsible for the oversight of an acquisition IT portfolio consisting of over 20 project/product offices and valued in excess of $1 billion per annum, providing guidance on all matters related to strategic planning, operations, logistics and acquisition management. 
Wasikowski holds a bachelor's degree in business administration with a focus in acquisition and contracts management from Strayer University, and a master's degree in business administration from Strayer University's Jack Welch Management Institute.  He is a recipient of the Commander's Award for Civilian Service. 
Wasikowski has attended numerous acquisition and leadership courses, is a member of the Army Acquisition Corps and holds a practitioner Defense Acquisition Workforce Improvement Act certification in Engineering and Technical Management.