Image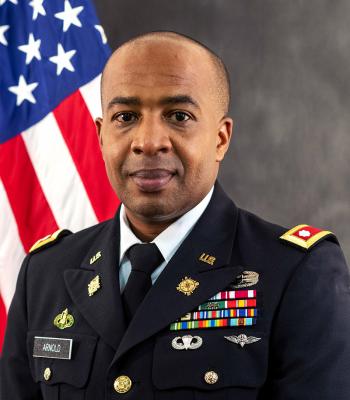 Lt. Col. Xkoshan (Koshan) Arnold serves as product manager of the Global Enterprise Network Modernization – Americas product office, part of PEO EIS' Integrated Enterprise Network portfolio. In this role, he leads a team responsible for modernizing the Army's information technology infrastructure and managing the Army's continental United States installation campus area networks and command centers.
Before assuming the product manager position, Arnold completed the Training with Industry Fellowship Program with IBM. Prior to that, he was the assistant executive officer for the Principal Deputy to the Assistant Secretary of the Army (Acquisition, Logistics & Technology). Before that, he served as an assistant product manager for the General Fund Enterprise Business System at PEO EIS.
Arnold first became an acquisition officer in 2012. Upon graduation from the Acquisition Basic Course, he was assigned to the 629th Contingency Contracting Team, 411th Contracting Support Brigade, located at Osan Airbase, Republic of Korea. From 2012 to 2013, he served as the team's contract management officer. From 2013 to 2016, he was a procuring contracting officer within the Defense Logistics Agency Contracting Services Office-Fort Belvoir. From 2016 to 2017, he served as the battalion executive officer for Regional Contracting Center-Kuwait, 408th Contracting Support Brigade.
Arnold graduated from the Armor Officer Basic Course in 2003. After graduation, he served as a tank and scout platoon leader for K Troop, 3rd Squadron, 3rd Armor Cavalry Regiment (ACR). He deployed to Operation Iraqi Freedom with K Troop as a platoon leader from January to March 2004 and from March 2005 to March 2006. He later served as the assistant squadron S4 for 1st Squadron, 3rd ACR for the same deployment. Upon redeployment in March 2006, he served as the S4 for 1st Battalion, 67th Armor Regiment, 2nd Brigade, 4th Infantry Division. Arnold later served at Fort Riley, Kansas, where he was assigned to Military Iraqi Transition Team 3-11-4, 1st Infantry Division. He served as the Headquarters Support Company (HSC) military advisor and deployed to Iraq under Operation Iraqi Freedom to train Iraqi military and defense forces. From April 2009 to April 2010, Arnold successfully commanded the 111th Quartermaster Company (Mortuary Affairs), 530th Combat Sustainment Support Battalion, 49th Quartermaster Group at Fort Lee, Virginia. Upon completion of command, he transitioned to the group staff as the petroleum operations officer.
Arnold's military education includes Command and General Staff College, Army Acquisition Basic Course, Petroleum Officer Course, Captain's Logistics Career Combined Course, Aerial Delivery Management Officer Course, Scout Leader's Course, Armor Officer Basic Course and Airborne School. His civilian education includes a Bachelor of Business Administration-Information Systems from Old Dominion University, a Master of Professional Studies-Technology Management from Georgetown University and a Master of Business Administration from the University of Phoenix. He is a Certified Federal Contracts Manager and Certified Project Management Professional.
Arnold's awards and decorations include the Defense Meritorious Service Medal, Meritorious Service Medal, Army Commendation (3 oak leaf clusters), National Defense Service Metal, Iraqi Campaign Medal (Silver Campaign Star), Global War on Terrorism Expeditionary Medal, Global War on Terrorism Service Medal, Korea Defense Service Medal, Army Service Ribbon, Overseas Service Ribbon (4), Combat Action Badge, Parachutist Badge and the Parachutist Rigger Badge.