Image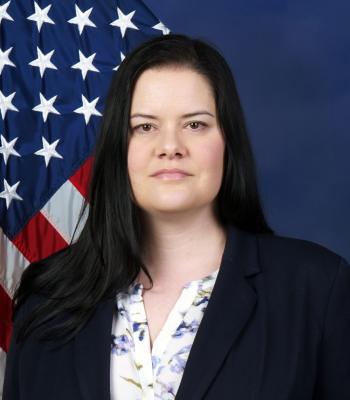 Sarah Mullins assumed the charter of PEO EIS' Computer Hardware, Enterprise Software and Solutions (CHESS) product office in December 2022. As CHESS product lead, she leads a team responsible for establishing and maintaining no-fee, flexible contracts through which Army customers may procure commercial off-the-shelf IT hardware, software and services via an e-commerce-based process (IT e-mart).
Before arriving at CHESS, Mullins was a senior project officer for EIS' Defensive Cyber Operations (DCO) project management office, supporting foreign military sales projects on information and infrastructure modernization for partner and coalition nations. Prior to DCO, she served with EIS' Global Enterprise Network Modernization – OCONUS product office, formerly known as Power Projection Enablers, providing network, information and infrastructure modernization services in support of two combatant commands and two Army service component commands spread across the European theater.
Mullins was commissioned into the Signal Corps in 2004, serving in a variety of tactical and strategic Signal organizations, prior to transitioning to the Army Acquisition Corps in 2012. In 2016, she left active duty and entered civil service with PEO EIS, serving as assistant product manager for the Installation Information Infrastructure Modernization Program, responsible for modernizing command centers through development and delivery of critical command, control, computers, communications, cyber and intelligence capabilities to U.S. warfighters across the globe.
Mullins' education includes a bachelor's degree in criminology from Florida State University and a master's degree in public administration from Clemson University. She is a member of the Army Acquisition Corps and holds advanced Defense Acquisition Workforce Improvement Act certification in program management and foundational/professional certification in engineering and technical management.
Mullins' military and civilian awards include the Bronze Star Medal, Meritorious Service Medal, Army Commendation Medal (four Oak Leaf Clusters) and the Civil Service Commendation Medal.