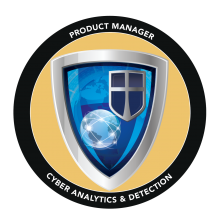 Who we are
Defensive Cyber Operations (DCO), Cyber Analytics and Detection (CAD) focuses on programs that are software-based which supports mission command,  planning, integration, analysis, and execution at all levels.
The DCOMP capability integrates cybersecurity requirements, inel, & vulnerability analyses with the outputs of mission analysis to determine probable attack vectors and produce a set of relevant internal defense measures, triggers, and decision points. The Cyberspace Analytics capability offers interfaces and visualizations accessible by cyberspace defenders at all levels to facilitate counter-reconnaissance activities meant to discover the presence of advanced or sophisticated cyber threats and vulnerabilities.
The UAM capability is a scalable solution that proactively identifies internal risks associated with the theft or misuse of critical and assists with the establishment of the Army's Insider Threat (InT) Program that utilizes full-spectrum solutions to assess, deter, deny, defend, defeat, and evolve against the insider threat. The Threat Emulation capability allows the Cyber Community to conduct threat emulation in a garrison, deployed, or mission partner environment on information systems, net-enabled warfighting platforms, and critical infrastructure by closely resembling adversarial capabilities.