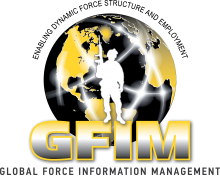 Who we are
The Global Force Information Management (GFIM) transactional capability is a dynamic, integrated and interoperable transactional global force structure and employment data system for the force management community to plan, program, and produce authoritative force structure data. Put simply, GFIM allows senior leaders and combatant commanders to make data-driven force structure decisions faster and with confidence in order to man, equip, train, ready and resource the Army.
GFIM: 
Provides an integrated and interoperable transactional capability for Global Force Management (GFM) planning, programming and production activities

Delivers an authoritative, open data platform for exchange of unclassified and classified force structure, and GFM to bulk data consumers

Provides Global Force Management Data Initiative (GFM-DI)-compliant data to give decision-makers near real-time visibility of the Army's capabilities, readiness, availability and employability

Provides authoritative, standardized force structure data that is visible, accessible and understandable

Presents near real-time FM insight of Army formations down to the team level for an Army at rest and in motion

Automates FM functions, enabling Deploy to Redeploy and Retrograde (D2RR), DOD Global FM, and Joint C2 processes
Learn more about GFIM in this fact sheet.