Image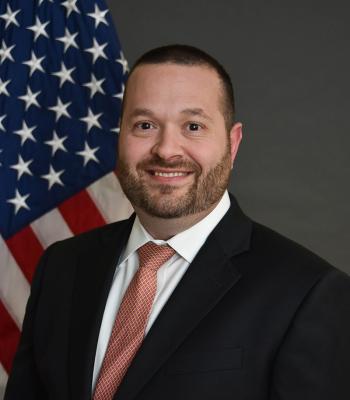 As the product director for Global Force Information Management (GFIM) at Program Executive Office Enterprise Information Systems (PEO EIS), Robert Porter is responsible for managing an effort that will automate the Army's core deploy-to-redeploy and retrograde business processes.
Porter previously served as the acting product director, General Fund Enterprise Business System (GFEBS) at PEO EIS. In that role, he was charged with the cost, schedule and performance management and oversight for the GFEBS product office, including GFEBS, GFEBS – Sensitive Activities, the Secure Contract Writing Solution and the Financial Management Tactical Platform. He led a diverse team comprised of approximately 70 civilian and contractor personnel, while managing an approximately $100 million annual budget to develop, test, field, sustain and enhance GFEBS' capabilities to meet the Army's financial management requirements.
Before that, Porter served as deputy project director for GFEBS from February 2020 to June 2022, leading efforts to migrate the Army's first enterprise resource planning system to the cloud, consolidating program offices and implementing a Scaled Agile Framework development methodology.
Prior to joining GFEBS, Porter served as the product lead for EIS' Headquarters Army Environmental Systems (HQAES) from May 2019 to February 2020. In that capacity, he led a multidisciplinary team of civilian and contractor personnel in developing the Army's solution for environmental clean-up and environmental quality accounting for Army liabilities in excess of $20 billion annually.
Porter has over 10 years in government service, including previous positions in information technology management and stints with the deputy chief of staff, G-9 (Installations) and the Office of the Administrative Assistant to the Secretary of the Army. In those positions, he was charged with management of all aspects of systems management, including development and administration.
Porter is a graduate of the National Defense University College of Information and Cyberspace where he received a master's degree and a graduate certificate in cyber leadership. He also holds a bachelor's degree from Longwood University, an advanced Defense Acquisition Workforce Improvement Act certification in Program Management, and a CompTIA Security+ certification. He earned Defense Acquisition University credentials in Other Transaction Authority (OTA) and Cybersecurity for Program Manager. Porter's awards and recognitions include the Meritorious Civilian Service (two awards), the Commander's Award for Civilian Service (two awards), Civilian Service Commendation Award, the Achievement Medal for Civilian Service, and the Headquarters Department of the Army Staff Lapel Pin.