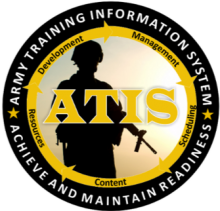 Who we are
Product Development Manager (PdM) Army Training Information System (ATIS) acquires, deploys and maintains a worldwide distributed learning system to ensure our nation's Soldiers receive critical training anytime, anywhere to ensure mission success. PdM ATIS increases the quality of life for Soldiers and DA Civilians by providing a more stable and predictable lifestyle, reduces training costs for the Army and, directly impacts the Army's ability to meet its training mission. Unlike traditional methods of training that are costly, time consuming and require time away from family, our system provides Soldiers and DA Civilians numerous options to access Army training creating a relevant and ready Army.
Soldier readiness necessitates on-demand training. ATIS is the infrastructure that delivers distributed learning and is breaking old training paradigms by bringing training to the Soldier anywhere, anytime, 24/7.
ATIS is part of the U.S. Army Program Executive Office Enterprise Information Systems (PEO EIS). PEO EIS is responsible for project management of Department of Defense and Army business and combat service support systems, as well as related Army communication and computer infrastructure.
Distributed Learning provides the Army with the capability to obtain the state of readiness necessary to accomplish the Army's mission and contributes to quality of life by increasing stability for both Soldiers and civilians in their personal and professional lives. ATIS is dedicated to providing a quality training delivery system to all Army components in the most expeditious and cost-effective manner possible.