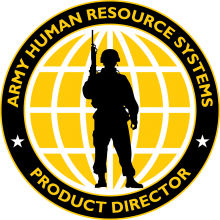 Who we are
Army Human Resource Systems (AHRS) provides installation and field commanders worldwide with essential, state-of-the-art, cost-effective and standardized, knowledge-based automation tools. These tools are essential to human resource accountability of Soldiers, inventory management of organizational clothing and individual equipment (OCIE), and technology to enable solutions for Army workforce members handling recruitment and accessions.
AHRS consists of the following systems:
Accessions Information Environment (AIE)
AIE implements new business practices and modern technology to enable solutions for Army workforce members handling recruitment and accessions, as well as for commanders at various levels within the accessions enterprise. AIE will collect, store, secure and allow role-based access to sensitive data, including personally identifiable information and protected health information. It is a fully integrated, enterprise-level capability enabling transparency, efficiency and effectiveness of the accessions workforce to acquire the best-qualified talent to meet all Army manning requirements. AIE is built on a foundation of data, information technology architectures and standards, infrastructure and analytical tools, to achieve a modern end state using configurable, commercial off-the-shelf-based software. The AIE solution is being configured as a net-centric enterprise solution characterized by standardized architecture; maximized authoritative data discovery and sharing; fully integrated capabilities; intuitive ability to access, visualize, assess and understand data; integrated and automated business processes; and single-source data entry.
Deployed Theater Accountability System (DTAS)
Provides real-time, in-theater accountability by name, unit, location and date. DTAS is the Army's first Secret Internet Protocol Router Network (SIPRNet)-based personnel system, with the mission of tracking personnel types, including but not limited to: Army, Marines, Air Force, Navy, contractors, federal employees and foreign nationals. In addition, DTAS is available globally on the Non-Classified Internet Protocol Router Network (NIPRNet). DTAS has provided users with the ability to manage unit strength and personnel availability information, with a complete history of each person's movements in theater for analysis and historical record since 2004. The system provides the flexibility to work in both network-connected and disconnected modes. DTAS is currently leveraged in the Central Command, Africa Command and Indo-Pacific Command areas of responsibility.
Installation Support Modules (ISM) 
Consists of four standardized, web based, custom-developed automation applications that integrate Army installation business practices and processes (In/Out-Processing, Transition Processing, Personnel Locator  and Central Issue Facility). Key customers include commanders, Soldiers, personnel managers and logisticians; stakeholders include combatant commanders, HQDA G-1 and HQDA G-4. ISM assists commanders worldwide in equipping, sustaining and deploying Soldiers. ISM consists of the following:
In/Out-Processing (INPROC/OUTPROC): Assists Army installation personnel with in-processing and out-processing personnel to/from an installation. In brief, INPROC/OUTPROC supports the following:

Initiating and generating the DA Form 5123-1 (In-Processing Personnel Record)

Initiating and generating the DA Form 137-2 (Installation Clearance Record)

Capability for out-processing agencies to pre-clear individuals initialized for out-processing by the installation's in/out-processing

Capability to create unit sets or group in/out-processing rosters
Transition Processing (TRANSPROC): Assists Army installation personnel with the functional processes associated with the transition of soldiers from active-duty status to retirement, discharge or release from active duty. TRANSPROC also has system interfaces with the Army Pay Systems (DRAS & DJMS). These interfaces expedite the pay process for a transitioning soldier.
Personnel Locator (PERSLOC): Allows the installation or unit mail room personnel to enter DA Form 3955 (Change of Address & Directory Card) information for an individual. Once 3955 data is entered, authorized personnel will have the capability to look up and/or update the existing DA Form 3955 information as necessary. In addition, authorized users will have the capability to print address labels for the purpose of forwarding mail to individuals as necessary.
Central Issue Facility (CIF): Manages the installation CIF's organizational clothing and individual equipment (OCIE) assets, ensuring that uses at the central issue facility at Army installations. CIF provides a standardized Army-wide, automated, user-friendly system for the receipt, storage, issue, exchange and turn-in of authorized OCIE at Army installations.