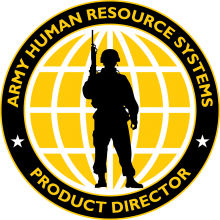 Who we are
Army Human Resource Systems (AHRS) provides installation and field commanders worldwide with essential, state-of-the-art, cost-effective and standardized knowledge-based automation tools. These tools are essential to human resource accountability of Soldiers, inventory management of Organizational Clothing and Individual Equipment (OCIE), and the scheduling and management of firing ranges and other training facilities.
AHRS consists of the following product offices:
Accessions Information Environment (AIE)
AIE implements new business practices and modern technology to enable solutions for Army workforce members handling recruitment and accessions, as well as for commanders at various levels within the accessions enterprise. AIE will collect, store, secure and allow role-based access to sensitive data, including personally identifiable information and protected health information. It is a fully integrated, enterprise-level capability enabling transparency, efficiency and effectiveness of the accessions workforce to acquire the best-qualified talent to meet all Army manning requirements. AIE is built on a foundation of data, information technology architectures and standards, infrastructure and analytical tools, to achieve a modern end state using configurable, commercial off-the-shelf-based software. The AIE solution is being configured as a net-centric enterprise solution characterized by standardized architecture; maximized authoritative data discovery and sharing; fully integrated capabilities; intuitive ability to access, visualize, assess and understand data; integrated and automated business processes; and single-source data entry.
Deployed Theater Accountability System (DTAS)
Provides real-time, in-theater accountability by name, unit, location and date. DTAS is the Army's first Secret Internet Protocol Router Network (SIPRNet)-based personnel system, with the mission of tracking personnel types including but not limited to: Army, Marines, Air Force, Navy, contractors, federal employees and foreign nationals. In addition, DTAS is available globally on the Non-Classified Internet Protocol Router Network (NIPRNet). DTAS has provided users with the ability to manage unit strength and personnel availability information, with a complete history of each person's movements in theater for analysis and historical record since 2004. The system provides the flexibility to work in both network-connected and disconnected modes. DTAS is currently leveraged in the Central Command, Africa Command and Indo-Pacific Command areas of responsibility.
Electronic Military Personnel Office (eMILPO)
A web-enabled system for managing, servicing and accounting for all active-duty Soldiers. eMILPO is a web-based, single database with real-time update capability used by the entire active Army personnel community to manage all active Soldiers. eMILPO's MyERB module allows active enlisted Soldiers to view records online from anywhere in the world. eMILPO provides information used by over 40 other Army and DOD systems, including DTAS, DEERS, ITAPDB, TOPMIS, and EDAS. eMILPO's reporting and analysis tools allow commanders and staff at all levels to determine unit personnel readiness, OPTEMPO, and current unit status.
Installation Support Modules (ISM) 
A web-based system that consists of four standard, custom-developed automation applications packaged into functional modules that integrate day-to-day Army installation business practices and processes. Three of the ISM modules support human resources business functions (in/out processing, transition processing and personnel locator), while the fourth module Central Issue Facility supports logistical business functions associated with management and accountability of OCIE.
The ISM system is currently operational at Army installations throughout the continental United States and outside the continental United States to enhance installation management by automating installation support functions. The system software operates over a TCP/IP network using the World Wide Web family of protocols, including Hypertext Transfer Protocol (HTTP). The web/application servers receive user requests from the browsers, have the requests processed by the database server and then send the request results back to the users. Oracle Application Server 10g (9.0.4.3) is used to provide HTTP connections and Oracle Container for Java 2 Enterprise Edition (J2EE) (OC4J) service. Data exchanges between the browsers and the web/application servers are handled via Secure Socket Layer (SSL). The database and web/application servers are currently located at Fort Belvoir, Virginia, and Fort Huachuca, Arizona, providing a multi-mastered database environment that allows for an enterprise view of data worldwide. There is an ongoing migration effort to configure and relocate the database and web/application servers into a virtualized environment in compliance with the Army Data Center Consolidation Plan (ADCCP).
Range Facility Management Support System (RFMSS) 
A client/server configuration with a single application/database server located at the installation level. The RFMSS application provides a standard, integrated system to efficiently assist installation commanders in providing training support for units and schools to manage valuable training lands and ranges. It is currently operational at 88 Army, 50 Navy and 12 Marine Corps installations. The RFMSS supports all major range management processes, including range and training area scheduling; unit and range control approval process; automation of range firing desk operations; airspace scheduling; automated warning of safety, scheduling and/or environmental conflicts; graphic and textual display of current range status; and production of range, training area and airspace utilization reports. The client/server RFMSS application was written using Power Builder 9. The RFMSS system also has a web-enabled scheduling capability that is written in Active Server Pages, JavaScript, Visual Basic Script C++ and C#. The RFMSS web server is located at the Fort Belvoir Network Engineering Center (NEC) computer facility. Network and systems management for the RFMSS system is provided by the AHRS (NOSC), to include a 24/7 help desk. There is an ongoing migration effort to configure and relocate the RFMSS installation servers to a virtualized environment in compliance with the ADCCP.
Tactical Personnel System (TPS) 
A stand-alone portable scanning system that provides users with the ability to create manifests, maintain personnel task forces, manage crew status and create unit personnel reports. TPS Exports: Manifests can be exported to Transaction log, Air Mobility Command, and the Personnel Accounting System file formats. Jump manifests can be exported to Air Mobility Command format or printed to a DA Form 1306-E. All of the TPS reports generate directly into Microsoft Excel and can then be saved to any Excel-compatible format.