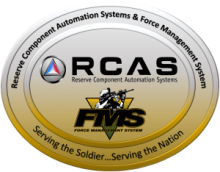 Who we are
Reserve Component Automation System (RCAS) provides integrated, web-based software solutions and support services that enhance efficiencies for the Army National Guard and the U.S. Army Reserve in maintaining mobilization, safety, personnel and force authorization requirements.
With more than 50 percent of the Army's force structure in the Reserve Component (RC), RCAS provides a standardized, integrated solution that links approximately 10,500 Guard and Reserve units at approximately 4,000 sites located in all 50 states, three territories and the District of Columbia.
Force Management System (FMS) provides IT modernization and integration solutions in support of the Army's force structure and readiness portfolio mission. Specific focus centers on transformational cloud solutions leveraging virtualization and global force management data initiatives to the DOD and the Army enterprise.
FMS designs, develops and deploys a force management and readiness system that will establish accurate, consistent and timely data to the Army force management and readiness communities. FMS directly supports the Army G-3/5/7 mission of managing and allocating manpower and force structure information, documenting unit models (requirements and authorizations), readiness reporting, and providing organizational/force structure solutions in support of the Army's transformation toward the future force. FMS is the Army's system to support the DOD J-8 GFMDI and the Army's organizational server (AOS) effort. GFMDI is a DOD methodology that allows units, for the first time, to track forces down to the individual billet levels.