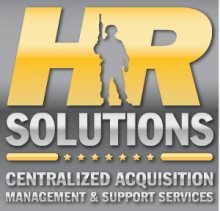 Who we are
Human Resource (HR) Solutions provides full-service, assisted acquisition support and centralized acquisition management of enterprise-level human resource services requirements. 
Products:
In late 2018, HR Solutions awarded its fifth generation of indefinite delivery, indefinite quantity (IDIQ) contracts. These 28 contracts have a contract ceiling of over $7.5 billion and an ordering period that extends into 2028. HR Solutions' fifth-generation IDIQ contracts were awarded under two distinct product/mission areas capable of supporting a wide range of Army and DOD human resource services requirements, and each task order requirement is competed among the prime vendors in each product/mission area, depending on the overall scope of the requirement. The two distinct product/mission areas are:
Personnel Lifecycle Support (PLS) 17 Prime Vendors, (8 Small Businesses)
Recruitment – Management and Administrative Support (R-MAS) 11 Small Business Prime Vendors 
PLS and R-MAS IDIQ contracts were awarded to industry partners that demonstrated their ability to support the full scope of Army and DOD human resource services requirements at the enterprise level through a comprehensive vetting and evaluation process. Having fully vetted, highly qualified prime vendors supports streamlined acquisition processes and significantly reduces procurement acquisition lead times (PALT) required to compete and award performance-based, enterprise-level human resource services task orders. 
Pre-Award Services:  
HR Solutions provides certified acquisition specialists who work closely with requiring activity subject matter experts and program managers to develop well-defined, performance-based acquisition packages with measurable results. This includes performance work statement (PWS) or statement of objective (SOO) documents, independent cost estimates, performance requirements summaries and quality assurance surveillance plans. HR Solutions also develops the proposal evaluation plans and provides advisors to the Requiring Activities Source Selection Evaluation Board (SSEB) members facilitating consistent evaluations, which reduces SSEB timelines.   
Post-Award Services:  
HR Solutions provides certified acquisition professionals to serve as a centralized contracting officer's representative (COR) on all awarded task orders. HR Solutions' CORs work closely with the requiring activity for the life of the task order to execute any required modifications and serve as a liaison for the requiring activity to resolve any contractual issues. HR Solutions provides significant contract administration support for the life of the task order, including contract surveillance and documentation, contractor invoice inspection and acceptance, and contractor performance assessment reports (CPAR) submissions. 
Why Use HR Solutions? 
The streamlined acquisition processes, task order competition and rigorous contract oversight and administration provided by the HR Solutions Project Office provides a significant cost savings to the Army.  HR Solutions' products and services were recognized as best practices by the Assistant Secretary of the Army-Procurement (DASA-P), which led to HR Solutions' designation as the Army's preferred strategic source for human resource services by the Secretary of the Army in 2015. Subsequently, HR Solutions was designated a Tier I Spend Under Management (SUM) program under the federal government's category management initiatives. All task orders awarded by HR Solutions support the Office of Management and Budget (OMB) DOD goal to bring services spend under management.