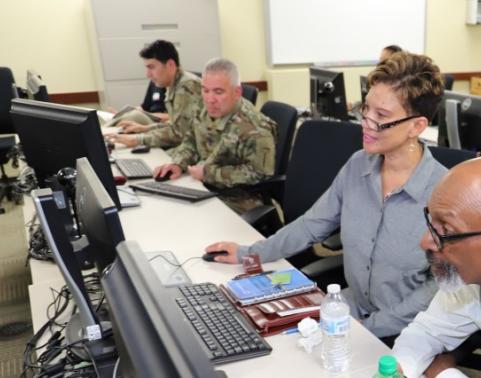 June 15, 2020
ARLINGTON, Va.--The author Paulo Coelho once said, "People never learn anything by being told. They have to find out for themselves."
For the Integrated Personnel and Pay System – Army (IPPS-A), determining how to proceed with building the system was something learned through trial and error, not through instruction.
One result of the learning experience was the use of Conference Room Pilots (CRP), which are meetings held every other month with the Release 3 build team, the program management office, system integrators (SI) and stakeholders.
"CRPs are part of the SI's technical approach, and they were included to ensure governance and stakeholder interaction," said Maj. Brian Hollandsworth, IPPS-A Release 3 design and development lead. "During Release 2, regular stakeholder interactions were held. So, as we entered Release 3, the process was formalized even further to ensure timely feedback."
The first Conference Room Pilot for Release 3 took place April 15, 2020. The next CRP was scheduled for June 10, with the one thereafter slated for August. The purpose of CRPs is to review system development and functionality to gain subject matter expert feedback. Basically, they are an evaluation of the progress made to that point in the development of the system.
According to Hollandsworth, the first CRP confirmed that the design of the system at that time met the needed functionality, and it highlighted the importance of data correctness.
"CRP 1 also showed how the system integrator was leveraging configuration," said Hollandsworth. "We saw how the leveraging of that configuration translates into a more sustainable system."
During these meetings, system integrators ensure the item built meets the requirement of the design, paying particular attention to the usability of the system. However, there is discussion about overarching system considerations for the Army, said Hollandsworth.
"It is imperative that IPPS-A and other Army systems have consistent and accurate data," said Hollandsworth. "CRPs provide an opportunity to discuss impacts beyond IPPS-A as a system."
Hollandsworth also said the lessons learned from Release 2 have impacted system design for Release 3 as much as the need for the Conference Room Pilot. He said Release 2 informed the design of Release 3 in certain areas, and the system integrator team paid particular attention to challenges from Release 2 when framing concepts in Release 3.
"The Release 3 team noted early the requirement for data fixes by developers to correct issues with Soldier records," said Hollandsworth. "The Release 3 team has built in configurable ways to make those updates at the field level, while building an auditable system and maintaining integrity of the data. Additionally, the lessons learned for assignments and promotions have shaped how Release 3 will handle these areas."