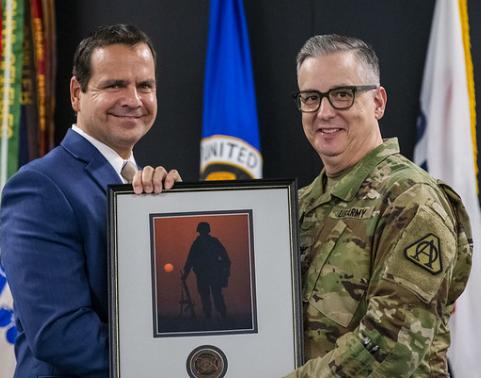 October 6, 2022
PEO EIS held a Sept. 30 change of charter ceremony for its Integrated Personnel and Pay System – Army (IPPS-A) Project Management Office, marking the send-off of outgoing Project Manager Col. Rob Williams and the return of Col. Robert (RJ) Mikesh to the EIS team.
As host of the ceremony, EIS Program Executive Officer Ross Guckert shared highlights from Williams' nearly three decades of Army service and his six years at EIS. Williams served as product manager of the Logistics Modernization Program from 2014 to 2017, successfully managing one of the Army's largest enterprise resource planning system implementations, and in 2019 assumed command of IPPS-A — the project office overseeing acquisition programs for the Army's human capital solutions.
According to Guckert, Williams played a pivotal role in leading the mission to deliver the Chief of Staff of the Army's number one military human resources (HR) modernization effort. Once fully fielded, IPPS-A's web-based talent management system will integrate personnel and pay capabilities, and provide a comprehensive HR record for more than 1.1 million Soldiers across all Army components — Active, Guard and Reserve. Under Williams' leadership, the system was successfully rolled out to the National Guard, replacing 54 separate and aging legacy systems with one single software system.
"Over the last two years, we have made progress in leaps and bounds with this program," said Guckert. "That's a testament to Rob's leadership and drive. Thank you for getting us to where we are today."
As IPPS-A project manager, Williams also oversaw the portfolio's Medical Communications for Combat Casualty Care and Reserve Component Automation System/Force Management System programs.
Besides thanking his team and EIS colleagues, Williams — who officially retired from the Army on Oct. 3 — offered some advice to newer members of the Army Acquisition Corps.
"Don't be afraid to take the tough jobs because that's where you're going to learn the most," he said.
EIS' new IPPS-A project manager is a familiar face at the acquisition organization, having previously served as product manager for the Installation Information Infrastructure Modernization Program, project manager of the Army Enterprise Systems Integration Program — now known as Army Data and Analytics Platforms — and as assistant PEO for the Business Mission Area.
In spring 2020, Mikesh was hand-picked by Gen. Gus Perna to help lead Operation Warp Speed, the White House's national program to accelerate the development, manufacturing and distribution of safe and effective COVID-19 vaccines and therapeutics. Upon the successful completion of his duties, he assumed the role of executive officer to the Deputy Under Secretary of the Army for a year before accepting his new assignment at IPPS-A.
In welcoming his new project manager, Guckert noted that Mikesh has been hand-picked for a number of prime assignments in recent years, which is a rarity for officers.
"It's a testament to his leadership, reputation, character and drive," said Guckert.
For his part, Mikesh said he "jumped at the opportunity" to return to EIS. He added that he was honored to be asked to return, thankful for his EIS family and motivated by the IPPS-A mission.
"If you ever get an opportunity to do something that's big, hard and that can impact all Soldiers in the Army, don't run away from the sound of the guns," said Mikesh, adding that he will do his best to move IPPS-A forward.
The IPPS-A change of charter ceremony can be watched in its entirety on PEO EIS' YouTube channel.