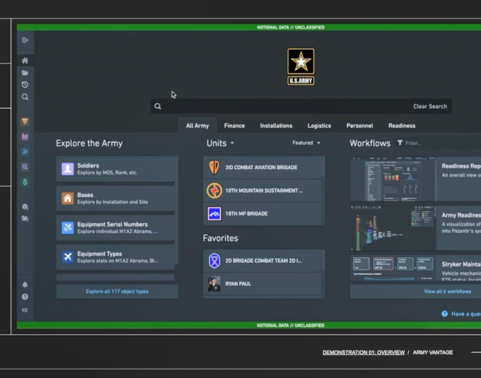 June 15, 2021
The Army Vantage team showcased the power and control of its system to more than 1,000 participants during its inaugural demo day June 8.
During the virtual event, presenters explored the platform's capabilities and showcased the critical work users across the Army enterprise have accomplished to date using the powerful data analytics platform. The team also fielded questions from participants to "bring Army Vantage to life" for users and potential users.
With opening remarks from Dr. David Markowitz, Army chief data officer, and Miranda Coleman, Army Vantage product lead, the event's goal was to provide a high-level view of the system's capabilities to both current and prospective Army users. The three-hour agenda included insights and live demonstrations of Army Vantage capabilities for readiness, finance, data in the platform, contour, code workbook and workflows. 
During the readiness demonstration, Maj. Jeremy Rathbun, deputy readiness officer, XVIII Airborne Corps, shared with the audience that "no level of detailed data is too small" for Army Vantage to process, analyze and deliver to leadership in real time. He noted that without Army Vantage, action officers typically have to "get back to" leadership on data questions, which tends to take hours, if not days, to source. With Army Vantage, staff can answer detailed questions in stride with near-real-time data.
Additionally, Rathbun discussed the reliability, accuracy and timeliness of Army Vantage's data that supports real-time decision-making. When compared with legacy products and processes for accuracy, Army Vantage is 99.4 percent accurate with less time spent on collation and more time spent on analysis.
Maj. Melissa Sayers, operations research systems analyst at Army Sustainment Command (ASC), discussed and demonstrated Army Vantage's Contour capability, which executes familiar data processing like Microsoft Excel but is able to handle billions of rows of data and schedule automatic updates from data feeds. She noted that for the ASC maintenance budget forecasting report, it used to take 16 people 10 months to pull, analyze and report on the data. With Army Vantage, it takes one person just 30 minutes.
While Army Vantage is relatively new in the data landscape, the platform has already had a huge impact across the Army, saving time and effort to more efficiently manage and analyze data from parts to personnel. As Army Vantage continues to grow in popularity, so too will the strength and power of the data it collects and synthesizes for the Army. 
Part of the PEO EIS Army Data and Analytics Platforms (ARDAP) portfolio of programs, Army Vantage is the Army's data-driven operations and decision-making platform. By joining and enriching millions of data points into artificial intelligence (AI)/machine learning capable applications, it improves and accelerates decisions on everything from personnel readiness to financial return on investment. Today, thousands of operators across every echelon of the Army — including senior leaders, Soldiers, staff and analytic communities — use Army Vantage to improve the efficiency and accuracy of their work. Army Vantage is designed for speed, flexibility and impact — turning insights into actions and AI into outcomes, faster than any other system.
For more information on Army Vantage, visit:
https://www.eis.army.mil/programs/army-vantage
For .mil users: