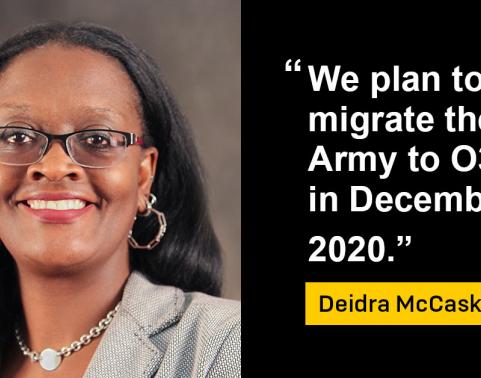 August 11, 2020
Deidra McCaskill, the Enterprise Content Collaboration and Messaging (EC2M) product lead, manages five enterprise IT programs and a $137 million annual operating budget. Before joining PEO EIS in 2011, McCaskill supported the Defense Information Systems Agency for more than 10 years as a lead project engineer. She enlisted in the Navy when she was 17-years-young and proudly served for 10 years on active duty and four years in the reserve. Her Navy career took her to California, Italy, Panama and the Pentagon. McCaskill earned a bachelor's degree in management from Park University (Parkville, Missouri) and a master's degree in telecommunications from George Mason University. A member of the Army Acquisition Corp, she has a Level III certification in information technology and program management.
A native of Hot Springs, Arkansas, McCaskill enjoys spending time with her son, reading books and bowling. "Deidra is quite a bowler," said John Howell, assistant PEO for networks, cyber and services. "When EC2M competed against Enterprise Computing in Enterprise Services bowl-offs, Deidra was our 'ringer.' Because Deidra, who is right handed, is such a good bowler, former EC Product Lead Archie Mackie insisted that she bowl left-handed to even out the talent level. That didn't matter, though, because she still bowled above 200!!"
McCaskill, today's #PEOEISTeammateTuesday, answered 11 questions about her career and life.
When does EC2M plan to rollout Microsoft Office 365 (O365) to the Warfighter?
We plan to migrate the Army to O365 in December 2020. The O365 rollout will prepare the Army network to successfully divest legacy systems and adopt newer, cloud-based services. The O365 rollout will increase the Army's productivity, collaboration and data security. It will also reduce the Army's IT costs. 
What is your favorite word?
My favorite word is "focused." I tried to get that word printed on my license plate, but somebody in Virginia already reserved it. I try not to get distracted so I can focus on my goals—whether it's finishing my college degree, raising my son or completing a task at work. I always remember to keep moving towards my goals and not get drawn into unimportant nonsense. "Focused" really describes who I am.
How did your Navy service help you succeed in your civilian career?
The Navy instilled in me a very strong work ethic. The Navy demands the best in everything you do. I carried those values into my civilian career and always strive to give my best.
What soft skills are required to succeed in Army acquisition?
Communication skills are important. You can never overcommunicate with your stakeholders. You need to provide regular status reports and lessons-learned debriefs. You also need to value your stakeholders' input.
Describe the PEO EIS culture.
PEO EIS has awesome leaders like John Howell and Lee James. John has an impeccable work ethic. He always gives 100%. Lee is a master at his craft. They know the way, go the way and show the way.
Why have you been so successful in your career? 
I attribute my career success to a strong work ethic, dedication to doing a good job and a fear of failure.
If you could go back in time, where would you go? 
I would visit my grandparents in Little Rock, Arkansas. They were phenomenal people who were very caring and compassionate. They loved their neighbors. They didn't have much, but they shared as much as they could to help others.
What do you consider the most valuable virtue? 
Compassion is the most valuable virtue. When I served in the Navy, a group of us adopted a local, all-girls orphanage in Panama. We donated supplies, hosted Thanksgiving dinners and monthly events. Even though there was a language barrier, the kids loved spending time with us. All they wanted was love.
If you could have coffee with anyone in history, who would it be? 
I would love to have coffee with Sojourner Truth, an abolitionist and women's rights activist. I love her "Ain't I A Woman" speech.
 What are you for or against? 
I am for equal rights for all. 
Who inspires you? 
My son inspires me because he is kind, patient, caring and considerate.