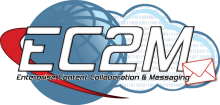 Who we are
EC2M increases efficiencies and aligns resources to deliver and sustain enterprise-level information technology (IT) capabilities that enable end-to-end collaboration, messaging, and content management across the Army workforce.  EC2M transforms the Army's legacy IT services to provide seamless and integrated communications for the Soldier on any trusted device, anywhere, anytime.
Products and Services
AKO provides a secure enterprise suite of collaboration, communication and identity management services to the Army around the world.  AKO's intranet services include a single enterprise Web portal, Army-wide directory services, organizational and personal file storage and search.
UC: provides non-assured voice, video, instant messaging/chat, presence and desktop sharing capabilities to 900,000 NIPR and up to 100,000 SIPR Army business users worldwide.
EAMS-A is the new Army Access management service that will intercept traffic to Army applications for authentication purposes.  EAMS-A services over 125 customers consisting of more than 875 sites.
Other Managed Services 
ECMCS provides enterprise level content management and collaboration capabilities to the Army Soldier and workforce to enhance and promote universal file sharing, collaboration, access to team sites, workflows, documents, and records. The DISA SharePoint managed service, ECMCS will significantly reduce redundant investments in applications and content storage, resulting in federated enterprise services and reduced costs.
DEE has the mission of improving Warfighter communications and operations by providing secure access to unclassified and classified email from any location (using client software or a web-browser), with a complete DoD global address list, and calendar sharing/management capability across the enterprise. By eliminating unnecessary administration and inefficient network configurations, DEE reduces cost and frees resources to focus on other priorities.