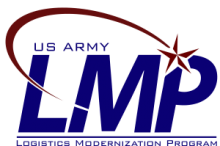 Who we are
The Logistics Modernization Program (LMP) is an enterprise resource planning (ERP) system that builds, sustains and generates warfighting capabilities using one of the largest, fully integrated supply chain and maintenance, repair and overhaul solutions in the world. The LMP also provides Army Working Capital Fund financial management.
As a whole, the LMP sustains, monitors, measures and improves the national-level logistics production baseline, delivers new and expanded capabilities, and supports Department of Defense (DOD) and Army ERP integration efforts. LMP support is critical to providing an integrated enterprise solution that enables materiel readiness and provides asset management and accountability, architecture and acquisition compliancy.
The LMP is deployed to more than 50 locations around the world with approximately 23,000 users throughout the Army Materiel Command (AMC) and related major subordinate commands, depots and arsenals, as well as the Defense Finance and Accounting Service and U.S. Special Operations Command. With the completion of LMP Increment 2 in 2016, the system now supports shop floor automation, automatic identification technology, expanded ammunition requirements, strategic Army business transformation goals and specific DOD directives, such as item-unique identification.
Today, the LMP continues to expand and enhance its capability offerings as part of continuous process improvement to support the Army's key priorities of people, modernization and readiness. The LMP is both sustaining today's Army and working to meet future needs through enhancements, including:
Transition to a higher performance database that speeds up data-driven, real-time decisions and actions


Implementing Army ERP tools and services


Interface with the Army Contract Writing System


Enabling of Digital Thread for 3D printing by AMC industrial sites and tactical Army


Additional minor functionality improvements and auditability requirements
Bottom line — today, and in the future, LMP equips, sustains, integrates and enables Soldiers, anytime and anywhere.