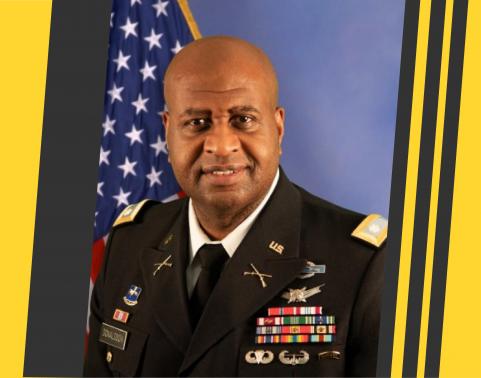 June 15, 2021
Lt. Col. Howard R. Donaldson, product manager for Power Projection Enablers (P2E) — a product office within PEO EIS's Defense Communications and Army Transmission Services (DCATS) portfolio — manages the full spectrum of network, information and infrastructure modernization projects around the globe, enabling information dominance across all phases of joint and coalition operations. The following is an excerpt from an extensive interview conducted with Donaldson before he turns over the P2E charter to Tom Dunaway on June 25.
Early Military Career
Donaldson began his military career in the 1991–1992 timeframe in the U.S. Air Force Reserves as a means to pay for college. He was trained as a security police and later cross-trained as an electrical systems specialist. After five years, he switched to the Air National Guard. Two years later, Donaldson ran into a friend who was an Army Reserve Officer's Training Corps (ROTC) Gold Bar Recruiter. After discussing the Army's commissioning process, Donaldson was ready to switch career paths. He joined a college ROTC program and the Oklahoma Army National Guard, eventually becoming an infantry officer.
Army Acquisition Career
After serving in the infantry for several years, Donaldson moved into the acquisitions functional area. He saw that program management was exciting and that his previous Army experience in developing teams would give him an advantage in the acquisition field.
His first assignment was with Product Manager (PM) Abrams at the Detroit Arsenal in Warren, Michigan. Later he moved on to PEO Combat Support & Combat Service Support with the Joint PM Mine Resistant Ambush Protected family of vehicles.
His next move was to Fort Leonard Wood, where he learned how to write requirements documents and was the senior acquisitions officer on post.
Donaldson's next assignment was at the National Reconnaissance Office (NRO). He later became a Department of the Army systems coordinator, working the Family of Medium Tactical Vehicles and Army Watercraft Systems. He honed his skills in interacting with senior military leaders and congressional staff members. Following that assignment, Donaldson took command as P2E product manager.
Product Manager Responsibilities
Donaldson stresses the importance of understanding and applying the scheduling, cost and performance of a program to meet mission requirements. He also sets the tone for the unit, provides guidance about direction of the product office and listens to issues from subordinates. His job also entails "putting out fires" for matters within the program, and working with contractors and stakeholders. Since P2E is a global product office, it requires a lot of OCONUS travel to meet with leadership and stakeholders to talk about current and future projects. These trips have enabled him to meet with P2E personnel. He relies heavily on his deputy product manager, three theater directors and leads at the P2E Fort Belvoir office, emphasizing that the success of P2E is a team effort. 
Importance of Mentorship
According to Donaldson, mentorship is easy if you practice two things, "sharing and caring." He believes if you want to succeed, you need to both provide mentorship and receive it. In addition, he believes you need sponsors and advocates for career success. He spoke of his sponsorship and advocacy from Col. Enrique Costas, the former PM for DCATS, and from the acting PM DCATS, Aric Sherwood. They nurtured his professional development as an officer.
Advice for Prospective Acquisition Officers
Donaldson said he would give the same advice he received when he came in as an infantry officer: "Know and learn your craft. Take the time to learn all you can about acquisitions, contracting, logistics and systems engineering, but also take the time to learn about areas outside your lane."
For incoming product managers, Donaldson advises, "Build your teams and learn your craft." A product manager needs to know the phases of the program, planning, budget and execution process where planning decisions, programming guidance and congressional guidance are converted into a detailed resource allocation. The program manager also needs to know how the different colors of money work in the acquisition process. "Get your team involved to help you in planning, assessments, analysis and evaluations to help you make the most informed decision you can make," he says.
Proudest Moments
Donaldson is particularly proud of the mission statement and vision he co-developed with key leaders within P2E. He also used his leadership philosophy to create a culture of excellence. In his words, "Great teams C.H.A.T." — Communicate, are Honest, hold themselves and teammates Accountable, and are Trustworthy.
Memories from P2E
"I don't have [just] one memory," Donaldson said. "There are so many, and so I would say that the best times I had were when we were doing things collectively as an office, either in Belvoir, Kuwait, Germany, Korea or Hawaii."
Organizational activities like holiday office parties, team dinners and lunches, and get-togethers with everyone are P2E highlights for Donaldson.