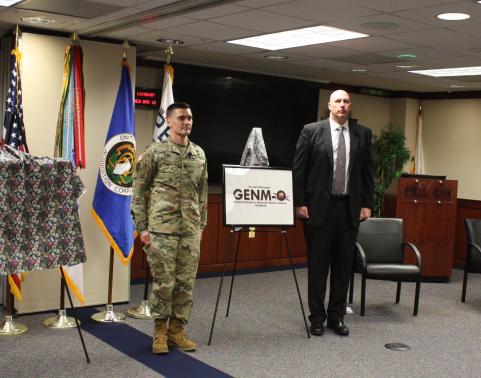 April 18, 2022
PEO EIS' Integrated Enterprise Network (IEN) project management office held a renaming ceremony on March 16 for its Power Projection Enablers (P2E) product office, which now is officially known as Global Enterprise Network Modernization – OCONUS (GENM-O).
GENM-O serves as the Army's total lifecycle acquisition manager chartered with implementing a modernized and standardized network. The newly rebranded office's mission ensures that OCONUS modernization efforts for the Army are scalable, accessible, flexible and defensible in alignment with the Army's Network Modernization Strategy and the Army Unified Network Plan (AUNP). By leveraging repeatable product baselines and agile business processes, GENM-O enables information dominance across all phases of multi-domain operations (MDO) and provides Soldiers with streamlined access to applications, data and enterprise services.
During the renaming ceremony, IEN Project Manager Col. Justin "Jay" Shell recognized the critical role that GENM-O plays in modernization efforts in the Europe, Pacific and Southwest Asia theaters. Shell highlighted one of GENM-O's current projects in which the office is laying the first Secret Internet Protocol Router (SIPR) modernization node in Hawaii, which will "serve as the global standard for the entirety of the Army's new SIPR network." He also thanked past leaders of the product office, many of whom were present for the renaming ceremony, for their continued support and mentorship.
"Tom [Dunaway], you and your team are the right folks at the right time with the right focus to aggressively attack the Army's global network modernization needs," said Shell.
Following Shell's speech, he and GENM-O Product Manager (PdM) Tom Dunaway officially retired the P2E name and introduced the new GENM-O logo. Dunaway spoke to how rebranding the organization gives GENM-O "an opportunity to develop a unique identity that better aligns with the Army G-6's vision of converging on a unified network." Dunaway closed by assuring stakeholders that the name change will not impact the services GENM-O delivers, nor its effective agile practices and productive workforce.
"Today, we change the name and logo, but we are always going to sustain the legacy that our former PdMs left behind," said Dunaway. "We also will maintain the incredible workforce that has gotten us to this point."