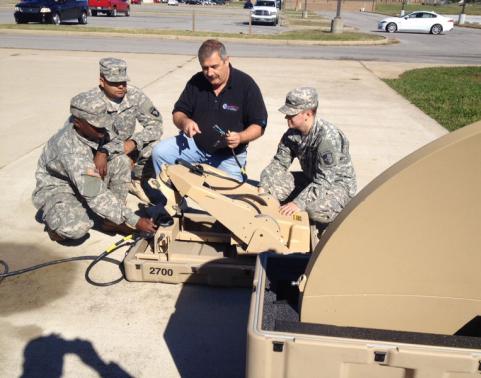 November 6, 2014
PEO EIS-provisioned Combat Service Support (CSS) Satellite Communications (SATCOM) Very Small Aperture Terminals (VSATs) are being shipped to West Africa in support of U.S. government efforts to contain the spread of the Ebola virus, which has infected and killed thousands in Guinea, Liberia, Nigeria, and Sierra Leone.
The U.S. military has quickly established the Joint Forces Command – United Assistance (JFC-UA) to support the comprehensive U.S. government response to the Ebola outbreak. United States Agency for International Development (USAID) is the lead U.S. agency in charge of the U.S. response to the Government of Liberia's request for assistance in containing the Ebola Virus Disease. The mission of JFC-UA is to oversee the construction of and facilitate staffing for healthcare facilities needed to contain the outbreak, such as a 25-bed treatment facility dedicated to treat healthcare workers who may become ill while treating Ebola patients.
U.S. Africa Command (AFRICOM) is drawing resources for this mission from:
101st Sustainment Brigade and the 86th Combat Support Hospital, Fort Campbell, Kentucky
7th Transportation Brigade, Fort Eustis, Virginia
1st Medical Brigade, Fort Hood, Texas
Soldiers will not be treating Ebola patients directly; rather, they will provide training to on-site healthcare personnel, and infrastructure and testing support in the form of modular Expeditionary Medical Support Systems.
As many as 4,000 personnel are being rapidly deployed for this humanitarian mission to a remote location with many critical elements. One of those elements is the CSS VSAT, which will constitute the operation's primary SATCOM sustainment link with the rest of the world. Chief Warrant Officer 2 (CW2) Jonathan M. Griffin, Signal Corps Information Systems Technician for the 101st Sustainment Brigade, explains the criticality of the VSAT team's mission. "I mean 'critical' as in we cannot succeed at this mission without it. Without it, we cannot communicate, we cannot keep ourselves supplied, we cannot maintain the equipment that we have. No VSAT, no mission."
Approximately 20 CSS VSAT units will be deployed in support of this operation. As a member of Product Director Defense Wide Transmission Systems (PD DWTS), Contractor Field Service Representative Emmanuel "Mikey G." Gerogianis and other U.S. contractors are working extraordinarily long hours to prepare these systems for deployment.
These teams are upgrading units to include the new e800 modem and replacing 4-watt block up-converter (BUC) transmitters with 6-watt BUC transmitters to provide the additional power to reach satellite assets in that part of the world, which orbit at relatively higher altitudes. They are configuring the CSS VSATs to work on the Defense Communications and Army Transmission Systems (DCATS) Communications Network (DCN) T11N network, which provides coverage across West Africa.