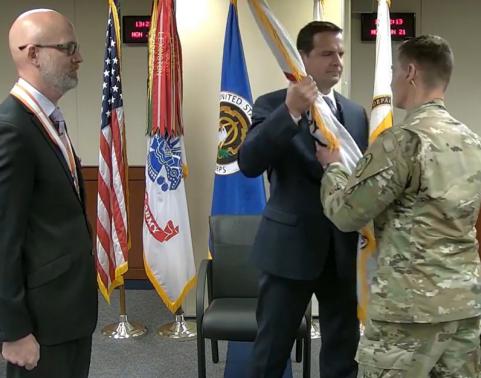 June 29, 2021
Col. Justin (Jay) Shell received the charter for PEO EIS's Defense Communications and Army Transmission Systems (DCATS) project management office from acting project manager Aric Sherwood in an assumption of charter ceremony June 21.
As the host of the ceremony, program executive officer Ross Guckert credited Sherwood with continually stepping up and meeting new challenges, overseeing many accomplishments in his portfolio and playing an active role in the Army's network and voice modernization initiatives. Guckert presented Sherwood — who will now serve as acting assistant program executive officer for networks, cyber and services — with both the Meritorious Civilian Service Medal and the Signal Corps' Bronze Order of Mercury.
In welcoming his new DCATS project manager (PM), Guckert recalled his prior experience working with Shell at the Office of the Assistant Secretary of the Army for Acquisition, Logistics and Technology (ASA(ALT)). Noting that Shell embodies the Japanese concept of Kaizen — a business philosophy meaning "change for the better" or "continuous improvement" — Guckert said that Shell's morale-boosting and mentoring efforts "left an indelible impact" on the ASA(ALT) office.
Shell arrives at PEO EIS at a time when the Army is developing the modernization strategy for its camps, posts and stations, said Guckert, and the new DCATS PM will be charged with the strategy's implementation. "His Kaizen will shine through," said Guckert.
After formally accepting the charter, Shell thanked Guckert for "the privilege of leading an awesome team of acquisition professionals." He also said a few words about the important mission ahead.
"As the Army pivots to multi-domain operations against near-peer competitors, our collective efforts to modernize the network will determine the success of our nation when we have to fight our next war," said Shell. "We [at DCATS] enable cyber and information dominance; we are the Army's network center of excellence for modernization, and we will make the nation proud."
Watch the entire DCATS Assumption of Charter ceremony on the PEO EIS Facebook page or YouTube channel.