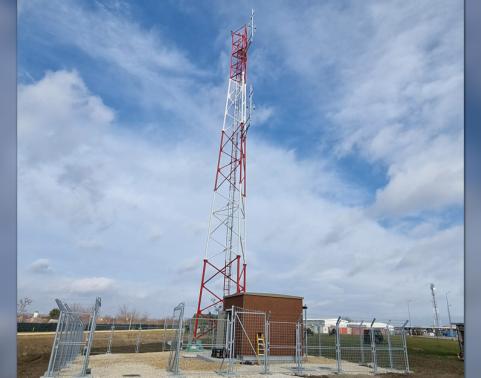 April 10, 2023
The outdated communications systems at Mihail Kogalniceanu Air Base (MKAB) in Romania and Novo Selo Training Area (NSTA) in Bulgaria were in desperate need of an upgrade.
With the completion of the Europe Enterprise Land Mobile Radio (EELMR) project, they got it.
Base Emergency Communications System (BECS), formerly known as Land Mobile Radio (LMR), was on a mission to modernize LMR capabilities for the garrisons' emergency services to keep personnel and interested parties safe.
Reliable base emergency communications are a critical aspect of every garrison, and the ones at MKAB — a Romanian Armed Forces base used by the U.S. — and NSTA — a Bulgarian base that hosts several countries for training — were anything but. Both bases were limited to radio to radio, line of sight communications only. Often unreliable, the existing emergency communications systems forced personnel to turn to the equally as unsteady networks of cellular phones to communicate instead.
With the implementation of radio frequency upgrades, the installed EELMR systems improve secure communications performance and coverage, and they allow for local emergency services to better protect and serve the garrisons.
"The number one key aspect is we've just provided and bolstered the communications capability for the Army," BECS Europe Assistant Program Manager Justin Calixto said of the project. "Without communication, you don't have much."
The benefits go beyond better, more reliable communications. The U.S. Army has made a conscious effort to increase personnel and capability in Romania and Bulgaria to support the protection of NATO's eastern flank. With these enhanced systems and information technology infrastructures in place, personnel can easily communicate across Europe — and, if needed, with the U.S. — all of which helps to reduce the isolation of the previously outdated garrisons.
The BECS team began the project in 2020 with a 36-month planned schedule. The project plan was executed seamlessly from start to finish without any major hiccups. The team significantly sped up the project timeline through its partnerships with local agencies to ensure the appropriate permits, host nation approvals and Ministry of Defence approvals were acquired. For a project of this magnitude, final approval was expected in 100 to 180-plus days. For both sites, approvals were received in less than 90 days.
"That was definitely a win on our end," Calixto said.
Rather than using a one-size-fits-all approach, Calixto led a team that tailored the project designs for both countries to ensure adherence to differing standards, regulations and codes. The designs for each country were approved in the first round of review, which is not typical. Overall, the project was completed four months ahead of schedule.
According to Calixto, the success of the project has made relationships with Romania and Bulgaria "better through this process."
BECS, whose mission is to provide turnkey emergency communications across the globe, is part of PEO EIS' Integrated Enterprise Network (IEN) project management office.