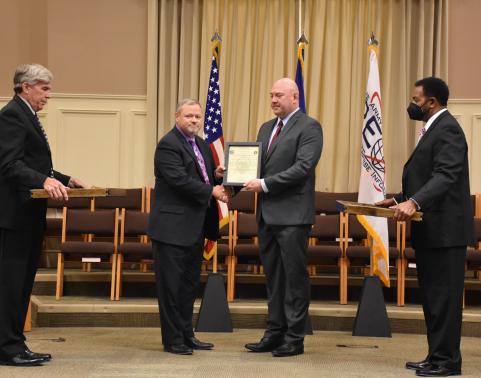 August 18, 2022
Erik Scott assumed leadership of the Global Combat Support System – Army (GCSS-Army) product office, part of PEO EIS' Defense Integrated Business Systems (DIBS) portfolio, at an Aug. 17 assumption of charter ceremony at Fort Lee, Virginia.
DIBS Project Manager Kevin Curry, host of the ceremony, welcomed Scott to his new role as GCSS-Army product director and expressed confidence in his ability to build on the program's accomplishments. GCSS-Army is a logistics-related enterprise resource planning system founded in 2003 that has since moved into sustainment mode but continues to provide new capabilities like an aviation logistics solution and support for Army pre-positioned stock and medical logistics.
In his previous assignment as deputy product manager for the Army Contract Writing System product office at EIS, Scott helped provide strategic guidance and direction to the team, keeping them focused and aligned, said Curry. Scott was highly involved in the restructuring of the program, building alliances with sister services and federal agencies to get the program delivering immediate capability to the Army.
"I know he is going to bring all of this knowledge and experience to bear in leading GCSS-Army forward to even greater heights," said Curry.
For his part, Scott said he was glad to be back at Fort Lee, where he had supported Project Manager Logistics Information Systems from 2009 to 2016.
"It is an honor and privilege to be here with GCSS-Army," said Scott. "I know this program has done great things and will continue to do so regardless of the hurdles encountered ahead," said Scott.
Scott's predecessor at GCSS-Army was Lt. Col. (P) William Reker who left EIS in June to attend Senior Service College at the Dwight D. Eisenhower School for National Security and Resource Strategy before assuming his new role at the Missile Defense Agency at Redstone Arsenal, Alabama.