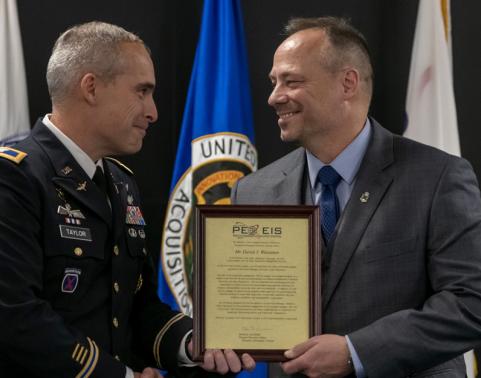 February 10, 2023
PEO EIS' Defensive Cyber Operations (DCO) held an assumption of charter ceremony Jan. 12, welcoming David Waisanen as the new product lead for the Allied Information Technology (AIT) product office.
Col. Mark Taylor, project manager for DCO, served as host of the ceremony. He noted that Waisanen had "decades of leadership and acquisition experience in his kit bag."
Before assuming the role of acting product lead at AIT in October 2022, Waisanen served in multiple roles within the organization, including as operations lead and deputy product lead. Before that, he served for 26 years in the U.S. Marine Corps, retiring as a lieutenant colonel, and worked for the Departments of Veteran Affairs and Homeland Security.
Waisanen thanked the AIT team for their hard work and patience during multiple transitions. He said they are the most important part of the organization's success.
"My goal for AIT is to strive to become the premier U.S. Army acquisition activity for customized security cooperation projects, supporting the warfighter's partner nation capacity-building requirements for command, control, communications, computers, cyber and intelligence," Waisanen said.
In October 2017, PEO EIS established AIT within its Installation Information Infrastructure Communications and Capabilities portfolio, which later became DCO. AIT, which previously was known as the International Programs Division, quietly built a reputation for itself in providing IT systems and services to allies and foreign partners around the globe. Now, AIT's team of around 30 staff members is hiring for numerous positions, hoping to quickly expand to meet the growing demand for its services in smaller countries throughout several geographic regions worldwide.
Network modernization and cyber projects are in high demand, and AIT is responsible for delivering comprehensive services to customers. Additional responsibilities include infrastructure evaluations, requirements gathering, project management, commercial off-the-shelf (COTS) hardware and software procurement, implementation, training and testing.
AIT works closely with the Deputy Assistant Secretary of the Army for Defense Exports and Cooperation, the Defense Security Cooperation Agency and other stakeholders with connections to the combatant commands
During an AIT breakout session at AFCEA Belvoir Industry Days in November 2022, Waisanen said they are not selling a weapons system from the Army and that everything AIT does is COTS-based with unique scope and scale.
Additionally, AIT is focused on gathering data and making it useful, said Waisanen. The team recently built a dashboard for its U.S. Central Command, hoping to expand its usage across other geographical combatant commands.
He added that AIT is planning to look at alternative acquisition strategies in line with the Army's evolution toward Agile.
"At the end of the day, we're trying to embed a strategic process and accomplish our mission from a task-organized standpoint to help host nations be better, so they can help our warfighters and other allies," said Waisanen.
To view the AIT assumption of charter ceremony in its entirety, please visit the PEO EIS YouTube page.