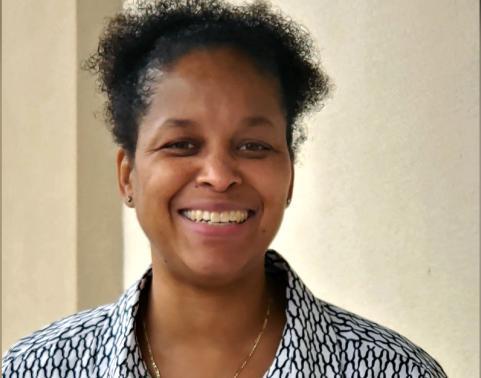 January 30, 2023
In her six-and-a-half years with PEO EIS, Linda Jones has made the move from contractor to civilian, served in three different portfolios (Army Data and Analytics Platforms, Integrated Enterprise Network and Defensive Cyber Operations) and become known for her mentoring skills and expertise in Scrum, which is an Agile framework that helps teams deliver value collaboratively in an incremental way.
As the deputy product manager for Defensive Cyber Operations' (DCO) Cyber Analytics and Detection since 2021, Jones is responsible for all aspects of acquisition, including development, testing, system integration, production, cyber security, fielding, sustainment and production improvements within cost, schedule and performance parameters. She recently took time to answer some questions about her life and career for EIS' Teammate Tuesday series.
Where were you raised, and how has that influenced you today?
I was a Navy brat, so I was raised all over the world, including in the Bahamas, Puerto Rico and Sicily. I traveled a lot when I was younger — mostly overseas until returning to the United States when I was 15. I didn't appreciate this transitional lifestyle until I got older. It has influenced me in numerous ways, above all in encouraging me to serve my country as a civilian since I never formally enlisted in the military.
When did you make the leap from contracting to serving as an Army civilian, and what prompted that change?
I was a contractor for quite a while, then joined EIS as a master scheduler in support of the Installation Information Infrastructure Modernization Program (I3MP). In that role, I had the opportunity to see both the schedule and the bigger picture at installations in the continental United States. I became aware of an opportunity to join the government as a civilian and jumped on it. Making that leap enabled me to build out the schedule and risk management program for I3MP. As a government civilian, I've gotten to participate in the strategy and policy side of the house.
What do you enjoy most about working at EIS?
EIS offers opportunities for team members to leverage their existing skill sets and find ways to expand their boundaries and capabilities. Also, the team I worked with when I joined was a really good one. They essentially debunked what people expect when working with the government. The team was very proactive and focused on ensuring Soldiers got what they needed during installation modernization projects. Sometimes our work may seem like a paper drill to us, but for Soldiers, our work is important to doing their jobs.
Tell us about your background in Scrum.
My initial introduction to Scrum came as a contractor, so I've been using it for a while.  Of the six project management offices at EIS, DCO does the most Scrum-based work. We actually do hybrid Scrum because the software development piece is Scrum-like, but other elements like requirements and testing need to happen before the software is delivered and deployed. I'm excited to see what we have in the works at EIS to improve our use of Agile processes, so we can reduce the time required to develop and deliver capability. It's fun to see how a concept goes from something in your head to something Soldiers can use.
What are some of DCO's top lessons learned from employing Agile and the Scrum process?
Stakeholder engagement is a big one — ensuring that everyone understands the software acquisition process and that expectations are appropriately managed. Our customers and partners need to understand that non-Scrum elements are part of the procurement process and that those elements necessitate additional steps and take time.
Another lesson learned is that teams need to understand Scrum practices. If new team members don't have experience with Scrum, they need to be brought up to speed, so they don't get frustrated. They can learn about Scrum via on-the-job training, from support contractors and other vendors, and via Defense Acquisition University and other courses.
Finally, we've learned that Scrum is a hybrid process and involves other pieces. For example, as part of DCO's work, we have to address Joint Capabilities Integration and Development System requirements. These requirements can't fall by the wayside. So occasionally we have to supplement Scrum with traditional waterfall processes or use another Agile method known as Kanban, which employs rolling deadlines.
What can be done to attract more female candidates to civilian careers in defensive cyber and/or Agile-based software procurement?
To attract more women, we need to foster more developmental opportunities for them. We have many in-house candidates with broad and deep expertise in specific functional areas who may be interested in changing roles, so we need to create pathways for them to make the transition. Enabling them to gain a well-rounded background in several areas will motivate them and help make them better overall acquisition program managers.
Regarding prospective new EIS team members, we need to give them exposure to in-demand career fields, perhaps enabling them to start as a program coordinator to see how various pieces work together. Then we can develop pathways for them to move in whatever direction they want.
Anything else you'd like to share?
Over the years, several folks have asked me to serve as their mentor. I enjoy that. I want to help others become successful and help them celebrate their successes.
On a personal note, I like change. When something is static too long, that drives me crazy. Change keeps things interesting. The field of work I'm in is dynamic. For folks who like change, DCO provides an environment that enables them to thrive.