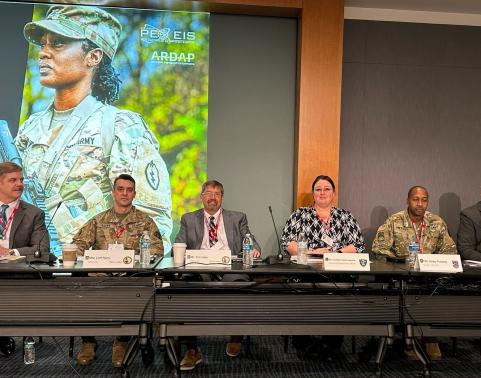 December 20, 2022
PEO EIS' Army Training Information System (ATIS) product office and the Army Training and Doctrine Command's (TRADOC) Proponent Office ATIS (TPO ATIS) held an in-person and online industry day on Dec. 5. More than 200 participants registered and attended the event.
The Army hosted the industry day to present its plan to streamline and modernize ATIS. Its mission is to transform ATIS into a single Army authoritative training and education management tool at all levels, from individual to collective training and self-development.
To accomplish this goal, the Army is seeking a solution integrator (SI) that will sustain the built-out ATIS environment, as well as ensure development and operational integration of three separately contracted lines of effort (LOE). The ATIS team will establish an enterprise training management solution that integrates multiple, disparate legacy training and education capabilities to provide commanders, leaders, commandants and resource owners with a single automation capability to support the entire training and education information enterprise.
Kicking off the industry day were senior Army leaders Ross R. Guckert, program executive officer for PEO EIS, and Col. Scott Woodward, deputy commanding officer for Combined Arms Center – Training. The leaders said the event's purpose was to solicit industry comments, questions and recommendations to inform the draft performance work statement for the SI and the statements of need for three lines of effort: LOE1: Army Training Management Capability and Army Training Development Capability; LOE2: Training Enterprise Scheduling Capability and Training Resource Management Capability; and LOE3: Army Learning Content Management Capability. 
"This approach and strategy you'll hear about today are a model for not just my portfolio, but the rest of the Army to follow," said Guckert.  "I am excited about this approach – the bridging strategy maintains momentum; the capability roadmap fixes the Army Learning Management System first; the task order and other transaction authority allows rapid prototyping; and the modular contracting approach permits best of breed."
Following the introductory remarks, ATIS officials provided functional and program overviews that further clarified the requirements for the SI/LOEs, provided information on the system architecture and contracting process, which will involve an Indefinite Delivery/Indefinite Quantity Task Order for the SI and Other Transaction Authority contracting vehicle for the LOEs.
"The Army needs 21st century tools to train and build leaders for 21st century warfare, and our antiquated, disparate legacy training systems are insufficient to meet emerging needs," said Tim Hale, ATIS product manager. "The Army requires an enterprise solution that meets the needs of the entire force across all three training domains — operational, institutional and self-development for all components, including Soldiers and civilians."
"ATIS is going to be the signature program on how the Army manages training and sees itself," added Col. Woodward. "We are requesting your (industry) help to determine what the best practices are with proven technologies to develop a modern system, and we challenge you to demonstrate to us what's in the realm of the possible."
To view the Industry Day charts, visit https://www.eis.army.mil/sites/default/files/2022-12/ATIS%20Industry%20Day%20slides%205%20DEC%202022.pdf
To watch the video, visit https://www.youtube.com/@PEOEIS/
To view the details about the opportunity, visit https://sam.gov/opp/baf3e631dea4481699bcff799ab96cd5/view