Image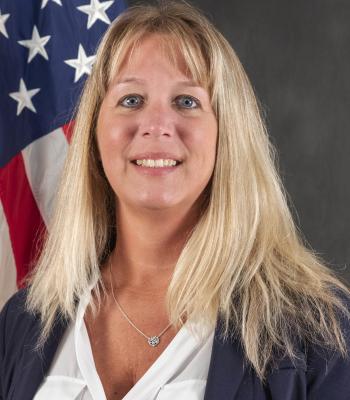 Kelly Rutherford assumed the role of product lead for PEO EIS' Foreign Military Sales – Army Case Execution System (FMS-ACES) in January 2023. In that role, she is responsible for overseeing a new product office with the mission of modernizing the legacy case implementation, execution and closure system (CISIL), and consolidating functionality included in several ancillary applications used to improve and enhance CISIL processes and user interfaces.
Rutherford's career of supporting the Department of Defense began in 2011 when she was a command system senior project manager with Marine Corps Community Services. She was responsible for the overall management, completion and financial outcome of multiple command system projects from inception to sustainment. She provided information technology (IT) acquisition guidance to senior leadership on configuration management, release management, quality assurance, risk management and program metrics, while executing multiple projects under strict deadlines, with resource accountability and within budget.
In 2016, Rutherford joined the Army workforce as a contractor supporting program management for the General Fund Enterprise Business System and in 2019 for the Accessions Information Environment (AIE). Rutherford's drive and support for contract award and execution through 2020 allowed her to transition from a contractor role to that of an Army Civilian.  Rutherford supported AIE, a Business Systems Category (BCAT) I program valued at over $375 million across the Future Years Defense Program and over $1 billion over its life cycle. Rutherford's contributions at AIE included helping restructure the program, communicate with professional staff members from Congress, prepare and defend program objective memorandum planning requirements, and lead integrated product teams across all disciplines to ensure standards were applied across the entire program and effective communications took place.
In 2021, Rutherford accepted a developmental assignment as the deputy product lead for AESIP Hub. She worked with the Army Shared Services Center to address resource gaps and any discrepancies in AESIP Hub performance metrics, including backlog tickets by functional group, help desk availability and resource allocations. Through constant monitoring, the program office was able to manage priorities and address any resource constraints and schedule slippages.
Rutherford later returned to AIE, working closely with both internal and external stakeholders to ensure the program met acquisition statutory and regulatory requirements, and aligned with all laws, regulations, policies and directives for program execution.
In October 2022, Rutherford was detailed from PEO EIS' Acquisition Innovation Directorate (AID) to the Integrated Personal and Pay System – Army (IPPS-A) Project Management Office. Her role was to assist where needed as the deputy for Increment II while the IPPS-A team prepared for full Army implementation of Release 3. There she focused on efforts to launch Increment II's future capabilities for pay and began to lay the groundwork for transforming the program into an Agile implementation organization. She was instrumental in providing guidance on a potential assisted acquisition pathway and requirements definition for implementing Soldier pay and other human resources functionality.
Rutherford earned a Bachelor of Business Management dual major in business administration and computer information systems from Strayer University, a Certificate of Business Administration in contracts and procurement management from the University of Mary Washington, and a Master of Business Administration from Columbia Southern University.
She holds a practitioner-level Defense Acquisition Workforce Improvement Act certification in Program Management and Project Management Professional certification from the Project Management Institute.