Image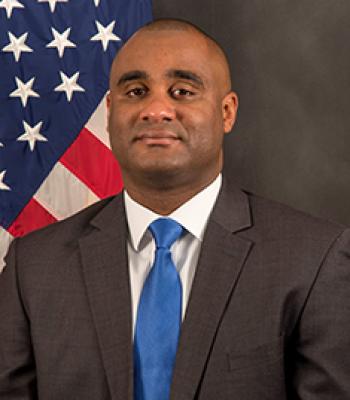 Lee James III is the project director for Enterprise Services (ES), where he leads the project office responsible for acquiring, fielding and performing lifecycle sustainment of enterprise-level services supporting many of the Army Chief Information Officer's largest enterprise initiatives. He provides leadership to a staff of over 300 government and contractor personnel across five product offices, in three geographic locations.
Prior to accepting the role as project director for ES, James served as the product director for Army Human Resource Systems (AHRS), within the Program Executive Office Enterprise Information Systems (PEO EIS), from June 2015 to June 2018. In this role, he was responsible for managing a portfolio of human resource capabilities that included four sustainment products and two development programs. During his tenure, the AHRS team delivered an incremental suicide risk reduction dashboard to the Army and also initiated the development of a modern Army recruiting and accessioning capability.
James has previously held leadership roles in PEO EIS, including serving as the deputy project director for Force Management System, the assistant project manager for General Fund Enterprise Business System (GFEBS) and deputy product manager for GFEBS – Sensitive Activities. Before joining GFEBS, James served under the product manager for Joint Automatic Identification Technology, where he was responsible for the lifecycle management of the Radio Frequency In-Transit Visibility capability. He joined PEO EIS in 2004 as a staff officer for the Chief Technology Office. He has supported several Army organizations, including the Army Chief Information Officer (CIO/G-6) and Network Enterprise Technology Command G-3 Operations, and was also competitively selected for the Army's CIO/G-6 Army Knowledge Leaders Program.
James began his federal service at the U.S. Army Defense Ammunition Center in McAlester, Oklahoma. He is a member of the Army Acquisition Corps and the American Council for Technology. He is also Defense Acquisition Workforce Improvement Act (DAWIA) Level III certified in program management and information technology. He was a Government Computer News Rising Star in 2008, earned the Achievement Medal for Civilian Service in 2012 and the Commander's Award for Civilian Service in 2009 and 2014. He also received the Department of Defense Chief Information Office Award in 2009.
Mr. James graduated Magna Cum Laude from Langston University with a Bachelor of Science degree in computer science and holds a master's degree in information resource management from Central Michigan University. In June 2019, he graduated from the Eisenhower School of National Security and Resource Strategy, National Defense University, with a Master of Science degree in national resource strategy.