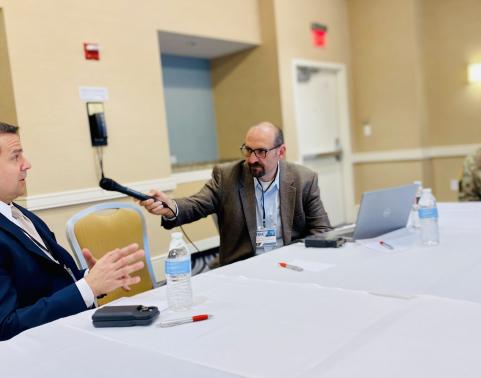 June 1, 2023
PEO EIS formally announced an organizational realignment at the Technical Exchange Meeting 10 (TEM X) in Philadelphia, Pennsylvania, from May 24-25, 2023. The movement is a significant step forward as PEO EIS evolves into a fully Agile organization.
As the Army modernizes and transforms, efficiency in operations and structure is critical to keeping up with the ever-changing technology landscape. From the top, the Assistant Secretary of the Army for Acquisition, Logistics and Technology [ASA(ALT)], looked at how each Program Executive Office (PEO) was organized and sought areas for optimization.
"We had a lot of discussions across the ASA(ALT) community and the PEOs," said Young Bang, principal deputy for ASA(ALT), who noted that ASA(ALT) looked at the organizational structure in its entirety to see if programs were logically linked together for efficiently supporting efforts like a unified network. "What we're looking at is — how do we really accelerate the modernization of the network?"
ASA(ALT)'s answers led to the restructuring of three PEOs, including PEO EIS. Aside from a unified network, ASA(ALT) dug into other large-scale efforts too — like consolidating offensive and defensive cyber efforts — with the same optimization lens.
"Why would we do defense and offense separately?" Bang inquired about ASA(ALT)'s cyber efforts. "When you look at those type of things, it was really the genesis of why we started some of these shifts in the Army."
Program Executive Officer Ross Guckert outlined the organizational shifts and how they will impact PEO EIS. By October 1, 2023, PEO EIS' Defensive Cyber Operations (DCO) portfolio — apart from its Allied Information Technology (AIT) product office —  will transition to PEO Intelligence, Electronic Warfare and Sensors (PEO IEW&S). The shift puts offensive and defensive cyber programs under the same umbrella.
In a similar vein, PEO EIS will transition its Integrated Enterprise Network (IEN) portfolio and its Enterprise – Identity, Credential and Access Management (E-ICAM) and AIT product offices to PEO Command, Control and Communications – Tactical (PEO C3T). Once in effect, all network elements — both tactical and enterprise — will be under one umbrella and better align with PEO C3T's mission.
"We've been talking about reorganizations aligned with mission areas for many years," Guckert said. "We're finally doing it, and it's the right thing to do."
While Guckert acknowledged the realities of the shift, he also shined a light on what is to come for PEO EIS. "These two PMs have been instrumental in modernizing the camps, posts and stations, and delivering defensive cyber capabilities to stay ahead of the threat," he said. "And I know they're going to be in good hands."
With PEO EIS' Agile transformation underway — no more waterfall — the organization's focus is on delivering faster, better capability to Soldiers and civilians. Several Agile success stories have already come out of PEO EIS, and with industry's help, more are to come.
"You're critical and an absolute integral part of our journey," Guckert said of industry's involvement in PEO EIS' Agile transformation. "We can't do it without industry. We have a high expectation that industry is following suit — that you're organized with the right skill sets to deliver in an agile fashion and able to demonstrate the automated continuous improvement, continuous delivery pipeline."
PEO EIS' transformation addresses all aspects of Agile acquisition — requirements, contracting, organizing, cost estimating, tech services and upskilling. "In about six months, we'll look like a completely different organization than we do today," Guckert said.