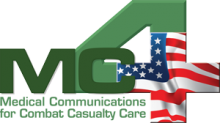 Who we are
Mission: The Medical Communications for Combat Casualty Care (MC4) product management office (PMO) enhances, integrates and fields the Army's capability to digitally capture medical treatment data in operational environments, enhancing continuity of care and enabling comprehensive lifelong electronic health records (EHRs) for Service members.
Vision: Deliver timely, cost-effective and easy-to-use information technology solutions to enable improved operational health care and patient documentation.
Description: The MC4 PMO is a chartered Army acquisition program of record under Program Executive Office Enterprise Information Systems (PEO EIS) directly reporting to PM Integrated Personnel and Pay System – Army (IPPS-A). PM MC4 delivers congressionally mandated modern electronic healthcare systems for all deployed Soldiers by developing and fielding Army-specific software capabilities to capture medical treatment data, as well as integrating and fielding Joint software capabilities, provided by the Program Executive Office (PEO) for Defense Healthcare Management Systems (DHMS) through Joint Operational Medical Information Systems (JOMIS).  
Characteristics:
Provides Army physicians, nurses, medical specialists and combat medics with a tactical medical capability at all levels of care

Electronically captures all medical treatment provided to Soldiers by the Army operating force

to inform their lifelong EHR

Addresses operational Army-unique medical information requirements

Ensures integration with existing/emerging Department of Defense and Army communication infrastructures and cybersecurity
*PM MC4 is in the process of transitioning to PM Operational Medicine Information Systems – Army (OMIS-A) in FY24. PM OMIS-A will continue to develop, integrate and field the Army's EHR software capabilities to operational Soldiers worldwide.*
Ms. Ami Bryant
Deputy Product Lead
Medical Communications for Combat Casualty Care (MC4)
301.693.2683 (mobile)
ami.e.bryant.civ@army.mil
For Information Regarding the Transition of MC4 to OMIS-A, Visit our CAC-Enabled Visitor Portal.
To Submit a MC4 Trouble Ticket: https://peoeis.kc.army.mil/mc4/Pages/VisitorContactUs.aspx