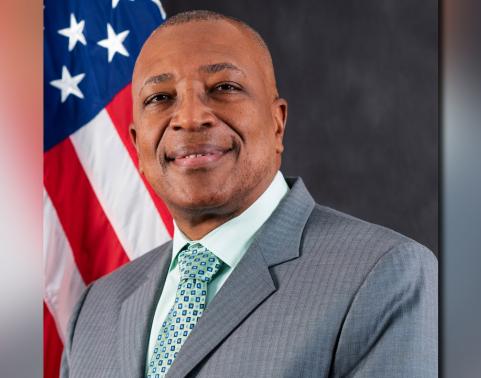 August 3, 2021
Ronald (Ron) Crevecoeur is the acting director of the Acquisitions & Systems Management/Strategic Initiatives Group at PEO EIS. Born in Haiti, he moved to the U.S. during high school and served in multiple positions in the Army focusing on system safety engineering, test and evaluation engineering, and defense acquisition system management. He is an introspective man, married, has three children and a family dog, and is today's #PEOEISTeammateTuesday.
Where did you grow up, and what interested you in working for the Army?
Good question. I wasn't born in the United States. I am originally from Port-au-Prince, Haiti. I came to live in the States my senior year of high school and lived in Brooklyn, New York. I did my undergraduate degree at Polytechnic University in New York. The irony is that when I was about five or six years old, there was a hurricane back home. As usual, the U.S. sent aid. I assume now it was from the National Guard, but the military personnel who delivered the aid flew helicopters and landed on the soccer field near my dad's gas station. From that time on, I made up my mind and said, "Hey, I want to be in the military. I want to be in the Air Force."
I tried to join the Air Force to attend Officer Candidate School when I finished college, but it didn't work out. I applied and got a job offer for an internship position with the Army Materiel Command. And here I am 32 years later. I love it. I love what we do. To me, it's not just a job. It's an honor and a privilege to be part of such an esteemed institution. I believe in what the Army does.
What's something about the Army you'd like to see implemented to make it better?
That's a tough question. Maybe I'm biased. I don't believe there's one singular thing we could put our finger on. The Army's changing. Our society has changed. I know there are challenges. I believe the leaders at every level of the Army are trying their best to adjust and adapt while they maintain the purpose of this institution. You have folks from all walks of life, and you realize it's not easy. You have to look at it as a system, where pieces have to connect like a puzzle. So if you see it in that context, you can understand why I'm okay with the way they're moving; how fast they're moving.
How has your background, such as your family or community, influenced the person you are today?
My parents have been influential in my life. My father was a very hard-working, dedicated person — an entrepreneur. Back home in Haiti, he was an attorney, and I valued his ability to contribute to society. My mother was a very nurturing person — somebody who was always there for people and kept us grounded. She always reminded us where we came from and what we'd been through. And then I do a lot of reading. I love the Dalai Lama's philosophy on life. Don't focus on material stuff. Value people, value nature.
Is there any book in particular you'd recommend?
I find the Dalai Lama's book, The Art of Happiness, which he co-authored with Howard Cutler, very appropriate for the time we are in now. I'll share with you a quote from the 14th Dalai Lama (Tenzin Gyatso), which I usually reflect on to nurture my satisfaction with life. It helps me focus and appreciate my accomplishments, my friends and my family:
"We need to learn how to want what we have, not to have what we want, in order to get steady and stable happiness."
Is there anything you've learned from someone you didn't like?
In a nutshell, I don't ever say that I don't like [this person] because I look at people as people. It's usually a difference in perspective based on our experiences, values and beliefs. We witness it in our business on a daily basis. People usually disagree based on their organization's mission, their functions, where they sit — not because they are bad people or intend to do badly. If you take time to hear them out and withhold judgement, you'll usually realize we are not on the opposite side, per se. So to answer the question, I usually learn a whole lot from people with different perspectives.
When you're done with work for the day, what are some things you enjoy doing? What are some of your hobbies?
People are always surprised to learn that I'm a very strong introvert. So, when I leave work, I spend time by myself to recover and recharge. Before COVID, I'd go to the gym, but now I don't do that. I browse my favorite sport teams' webpages or a news site to look around a little bit and just decompress. I'll walk the dog and think about nothing. I sometimes listen to podcasts. Then I take some time to reflect on the day because that's how I learn and prepare for the next day. I am a firm believer in people taking time for themselves.  
Last question — What advice would you offer those who are reading this article?
Well, I would say work is important, no doubt. But at the same time, don't forget about yourself. Don't sacrifice your loved ones for work. Put everything into perspective. A year ago at this time, I was very down and depressed because my mother passed away. I didn't see her in person for about seven months. COVID happened, and everything shut down. I didn't get a chance to go to New York, where she lived.
Also, while in Afghanistan in 2014, my boss, Maj. Gen. Harold Greene, was killed. We said "good night" one evening, and the next morning he was gone — two days before he was to return home for rest and recreation. Work is good — do it. But don't neglect all the other aspects of your life because anyone's light can go off at any minute.