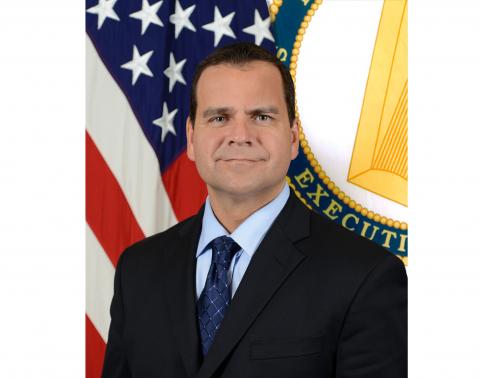 June 4, 2020
Welcome to my first PEO Perspective
It was a great honor to receive the charter for this organization in a virtual ceremony last month in which we also honored my predecessor, Cherie Smith, who retired after 42 years of Army service. She is an amazing friend and leader and we will all miss her. I am excited to lead PEO EIS to continued great success. As the work of connecting the Army and working for Soldiers continues, let's dive right in…
COVID-19 CORONAVIRUS
Over these past months since our nation first encountered COVID-19, what has struck me most profoundly is how impressive our Army is in determining needs and rapidly deploying to provide aid. At my former position as deputy PEO Soldier and here at PEO EIS, it's truly inspiring to see the exceptional dedication of the acquisition workforce, which continues to provide military manpower, IT and equipment around the world to confront the pandemic, while also protecting the force and maintaining readiness.
MEDICAL COMMUNICATIONS FOR COMBAT CASUALTY CARE (MC4)
Since March 19, MC4 field service representatives have deployed alongside medical forces, in areas like Seattle and the New York metropolitan area. 
In response to Army units leaving those sites or redeploying to their home stations, support has shifted from on-site to remote support to health personnel using the Health Assessment Lite Operations (HALO), MC4's newest electronic health documentation software application.
Since mid-March, medical providers documented more than 1,700 patient encounters using MC4 systems. Training was provided to 330 medical personnel from 72 Army and Navy units, and a total of 248 MC4 systems were fielded to units assigned COVID-19 missions through partnerships with federal agencies.
And the mission hasn't stopped -- MC4 continues to support COVID-19 missions in Guam, Japan, Korea and Kuwait.
OPERATION WARP SPEED
Col. R.J. Mikesh, project manager for the Army Enterprise Systems Integration Program (AESIP) and Acting Assistant PEO, was recently requested to join the Operation Warp Speed (OWS) Task Force, the Trump administration's national program to accelerate the development, manufacturing and distribution of COVID-19 vaccines, therapeutics and diagnostics.
At the end of May, Col. Mikesh joined the OWS team led by General Gustave F. Perna, commanding general, Army Materiel Command, supporting Lt. Gen. Paul A. Ostrowski, newly assigned OWS deputy chief of supply, production and distribution.
It's a tremendous honor for one of our own to be hand-selected for this critical national mission. While he'll certainly be missed, I can't think of anyone more fitting than RJ to serve our Army in this capacity.
During RJ's assignment, Jen Potts will serve as the acting Project Manager for AESIP. I look forward to working with her and the entire AESIP leadership team to ensure a seamless transition. We will let you know when a replacement is identified to fill the APEO role for the Business Mission Area that RJ also filled.
FURTHER LEADERSHIP CHANGES
Summer is always a time of transition in Army acquisition organizations. In addition to Cherie's retirement and the PEO change of charter last month, we also recognized Gabe Saliba as the product director Logistics Modernization Program (LMP) in a virtual assumption of charter ceremony. Gabe has been an institutional leader for LMP, serving in various roles over the years culminating in this most recent selection. Ms. Smith provided remarks for the virtual ceremony, which was well attended on our social media platforms.
We also celebrated the promotion of Maj. Lloyd Alaimalo, assistant project manager for General Fund Enterprise Business Systems (GFEBS), in another successful virtual ceremony that brought his family and friends together, literally from around the world. To view a clip of the ceremony, and to keep up on latest events throughout the PEO, make sure you follow our Facebook page. While you're at it, make sure you follow us on Twitter, LinkedIn and YouTube, also.
In the month ahead, we will observe the Integrated Personnel and Pay System-Army Increment II change of charter, as leadership transitions from Lt. Col. Laverne Amara to Lt. Col. Corris Bullock, and the important work of providing integrated personnel, pay and talent management capabilities in a single system to the whole Army continues.
Additionally, Lt. Col. Anthony Whitfield will relinquish the charter for Wideband Enterprise Satellite Systems (WESS) to Lt. Col. Scott Davis, continuing the mission of acquiring, developing and deploying enterprise satellite communication systems and state-of-the-art satellite systems.
We'll be updating our organization chart every week to help you stay current with our transitioning leadership team.
ARMY BIRTHDAY
June is Army Birthday month! For 245 years, the U.S. Army has stood together with America to help save lives and protect our people and our nation. This year, Army Birthday falls during a national crisis -- but we're all in this together, and we're here to serve our nation.
While we won't be able to host our annual cake cutting ceremony at PEO EIS, we will be highlighting some of the many Army Birthday activities in the National Capital Region. We also plan to celebrate virtually with our popular Hooah History facts series, focusing on 245 years of Army excellence. No matter the challenges we face, the Army has always answered the call to protect our people, and the work continues.
AFCEA BELVOIR INDUSTRY DAYS
A reminder that the annual AFCEA Belvoir Industry Days has been rescheduled for November 16-18, still at the Gaylord National Harbor.
I am looking forward to meeting with the AFCEA Belvoir team to begin our important work together, and to continue the tradition of this close partnership connecting government and industry.
This is one of our signature events, with program and procurement updates, best practices and networking opportunities. I am looking forward to this dynamic opportunity to meet you personally and discuss solutions to help us serve our most important customer – the Soldier.
WAY AHEAD
Ms. Smith is a hard act to follow. But she did what great leaders do -- she built a foundation of excellence and forged a plan that ensures the uninterrupted continuity of our success. A large part of the plan for success is having the right people in the right place at the right time, and I am confident that we have that team.
As a member of the Acquisition Corps for quite a number of years I already knew the scoop on PEO EIS: This is a hard-working group who tackle some of the most complex software and network issues facing the Army.
One of my initial priorities is working with industry to understand what best practices, lessons learned, tools, metrics and processes can we adopt to ensure discipline in how we deliver capabilities.  I look forward to hearing your ideas and establishing these standards across the portfolio.
I am excited about the work ahead, and I'm looking forward to getting to know you all better in the coming weeks and months. Despite the challenges we've all faced while doing our part to social distance and work from home, I am confident in our ability to carry on the most critical work of supporting Soldiers in their missions.
Thank you for the warm welcome, and for the opportunity to serve with you.
Connecting the Army. Working for Soldiers.
Ross Guckert
Program Executive Officer