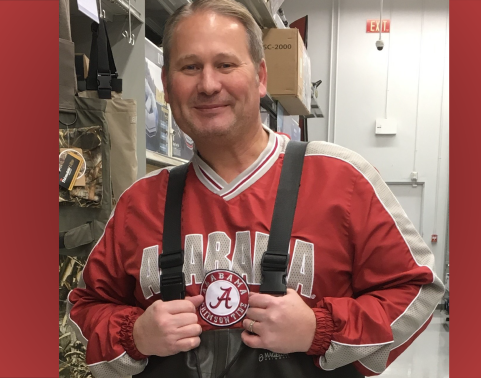 September 19, 2023
As acting product lead for Headquarters Army Environmental System (HQAES) at PEO EIS, Mike Underwood leads a multidisciplinary team of civilian and contractor personnel who are responsible for sustaining the HQAES system, which is used by the Army Environmental Program to provide environmental quality, restoration and performance assessment capabilities. Underwood, a senior aviation maintenance and acquisitions manager with over 23 years of military service, is an expert in enterprise aviation who previously worked with Global Combat Support System – Army while on active duty, serving as a contractor and as an Army civilian.
Underwood recently took time to answer some questions about his life and career for PEO EIS's Teammate Tuesday series.
Where did you grow up?
I call Weaver, Alabama home as I was there from 7th grade until I joined the Army in 1992. The city of Weaver has no red lights but plenty of churches, which is typical for a small Alabama town. I was a graduate of the Class of 1988 with 104 students.
What led to your career focus on enterprise aviation?
This was a natural progression for me and a true right time and right place situation. I retired from the Army after a 23-year career in Army Aviation. I started out as a Blackhawk Helicopter mechanic, which evolved into becoming a crew chief and quality control technical inspector. I was provided the opportunity during my career to work on all Army Aviation platforms and to be stationed in six different countries.
My last four years in the Army, I was selected to be a Gulfstream Executive Jet flight engineer with U.S. Army Priority Air Transport. That unit's primary mission is to provide aviation support to the Secretary of the Army and the Chief of Staff of the Army on executive jets. In 2004, I was assigned to Combined Arms Support Command as the GCSS-Army Aviation subject matter expert. I spent five years developing aviation in GCSS-Army prior to being called back to the "real Army."
In 2016, I was brought back onto the GCSS-Army program as a contractor to design, develop and implement the aviation solution within GCSS-Army under the GCSS-Army Increment II Enterprise Aviation program. I converted over as a government civilian in 2018 as the EAVN team moved full speed ahead and was lucky enough to be assigned as the EAVN assistant product manager under Col. William Reker. All those positions helped me to be able to see GCSS-Army Enterprise Aviation holistically.
What are some of the aircraft you've piloted? Do you still fly?
I was not a pilot — I was a crew chief on UH-60 Blackhawk Helicopters and a flight engineer on G-V/550 Gulfstream Executive Jets. If the Army called to bring me back onto active duty, I would go in a heartbeat and do everything I could to get back on flight status.
What do you enjoy about working at PEO EIS?
PEO EIS has given me the opportunity to have a second career continuing to serve the Army community. GCSS-Army EAVN has truly been the highlight of my short civilian career to date, and PEO EIS gave me the latitude to provide continued service to Army Aviation Soldiers.
How did you get involved with HQAES?
Prior to January 2023, the only thing I knew about HQAES was Pete Cloutier. I turned down a position with Army Aviation and Missile Command to remain at PEO EIS in the newly formed talent management program. For my first assignment, I was tasked with becoming the deputy product lead for HQAES.
What is it like to lead a program that is winding down?
It is like having a great aircraft that has met its time in service, so it is time to take it to the boneyard for retirement. This has been a change in operational tempo for me and has become another tool in my toolkit.
What do you enjoy doing in your downtime?
Family, kids, dogs, water, golf and University of Alabama football (Roll Tide!!!) — not always in that order. In my younger days, I was pretty good at golf, but in my twilight years I'm really enjoying water life — boating, jet skiing, kayaking and fishing.
Anything else you'd like to share?
Most know that I retired from the Army, but not all know that I retired as a master sergeant (E-8).