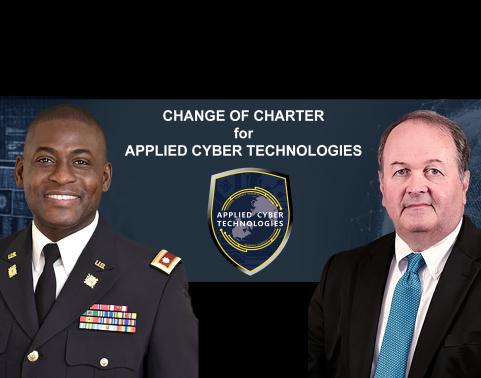 June 4, 2021
Col. Mark Taylor, project manager for PEO EIS's Defensive Cyber Operations (DCO), recently hosted a virtual change of charter ceremony for Applied Cyber Technologies (ACT), during which Lt. Col. Peter Amara passed the reins of responsibility to Arthur Edgeson.
"Under Pete's outstanding leadership, Applied Cyber Technologies has solidified its place as a leader in procuring, developing, integrating and fielding cyber technologies for the Army's cyber warriors," said Taylor. "ACT's ability to thrive in the midst of unprecedented challenges this past year due to COVID-19 is a true testament to Pete's leadership and to the incredible team he has built." 
ACT was awarded the 2020 Government Innovation Award and the 2020 Maj. Gen. Harold J. "Harry" Greene Awards for Acquisition Writing during Amara's tenure.
"Pete has left a tremendous mark on the organization and on the Army's cyber enterprise. He will be sorely missed at PM DCO, but we wish him all the best in his future endeavor," said Taylor.
Amara is leaving to attend Senior Service College as a fellow at the University of Pittsburgh's School of Computing and Information (Cybersecurity Program). Edgeson, who most recently served as deputy product manager for Cyber Analytics and Detection at DCO, is stepping in to take the helm at ACT. Prior to that, Edgeson served as the deputy product officer for Wideband Control at Wideband Enterprise Satellite Services within PEO EIS's Defense Communications and Army Transmission Systems portfolio.
"Art is an extraordinary asset to PM DCO. You have the technical skills, temperament and leadership ability to forge the next chapter in Applied Cyber Technologies' history, and you are ready!" said Taylor. "His intimate knowledge of cyber analytics and user needs will be invaluable to ACT as it continues providing best-in-class technology solutions to our cyber defenders."
In his first remarks as ACT's new product lead, Edgeson said he was looking forward to building upon Amara's great work. "Lt. Col. Amara and his predecessor, Mr. Joe Kobsar, have nurtured ACT into an outstanding organization, and I'm privileged to be able to lead it into the future," said Edgeson. "I think ACT is a gem in the Army's cyber enterprise, and I look forward to supporting the organization as it continues delivering unmatched defensive capabilities to the Army's cyber force."
ACT is a leader in delivering world-class cyber capabilities to the Army's cyber force. The product office develops innovative, rapid acquisition processes to procure cutting-edge cyber capabilities, and it integrates and fields those technologies to the Army's cyber defenders.