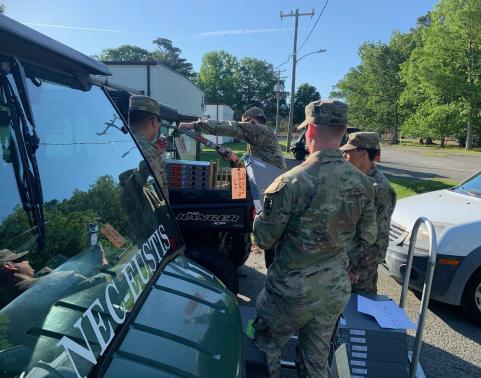 May 3, 2023
PEO EIS' Global Enterprise Network Modernization – Americas (GENM-A) product office is in the process of completing network modernization (NETMOD 2.0) at multiple Army installations within the continental United States (CONUS).
The Army's NETMOD 2.0 effort was designed to increase the efficiency, security, predictability and reliability of the CONUS theater network by upgrading devices that have already been through the traditional network modernization process. Beginning in the latter part of fiscal year 2022 (FY22) and into FY23, GENM-A completed NETMOD 2.0 projects at the following installations:
Fort Eustis
At Fort Eustis in Newport News, Virginia, which is part of Joint Base Langley-Eustis (JBLE), GENM-A team members kicked off a NETMOD 2.0 project in October 2021. By December 2022, the project had deployed all capabilities and is now complete.
The JBLE NETMOD 2.0 project was successful due to careful planning and clear dialogue among mission partners. With cooperation among the key stakeholders, GENM-A and the Regional Network Enterprise Center support team were critical to the success of the large-scale initiative. The military team members did an outstanding job of pre-staging equipment at both the main installation and Fort Story in Virginia Beach, Virginia. GENM-A is sharing technical lessons learned and planning procedures from this modernization effort with Army leadership to improve future modernization efforts and decrease costs for the Army.
Fort Lee (Note: Fort Lee was renamed Fort Gregg-Adams on April 27, 2023)
Another NETMOD 2.0 project took place at Fort Lee, Virginia. Due to its high user population, Fort Lee is considered an extra-large network for the Army. Launched in December 2021, the project was completed in October 2022 with all capabilities being deployed to the community.
Throughout the duration of the project, GENM-A's NETMOD team deployed and cut over more than 1,500 network devices. The success of this massive undertaking was a direct result of close collaboration among various stakeholders, including the Network Enterprise Center (NEC), GENM-A and Tobyhanna Army Depot (TYAD) engineers. Subject matter experts conducted several rehearsals of concept drills, which shortened the learning curve for the implementation team and provided insight for mission partners.
U.S. Military Academy
GENM-A's NETMOD 2.0 project at the U.S. Military Academy in West Point, New York, which began in March 2022, was completed with the implementation of all capabilities in November 2022. Despite facing challenges with local upticks of COVID-19 cases, travel restrictions and adverse weather conditions, the West Point project reached its projected milestones and was fielded with full operational capability (FOC) on schedule. The West Point NEC team and GENM-A's edge access switch deployment team members worked diligently to achieve FOC.
Fort Buchanan
At Fort Buchanan in Guaynabo, Puerto Rico, GENM-A kicked off a NETMOD 2.0 project in June 2022 and completed it ahead of schedule in October 2022. This was particularly noteworthy because it took place during Hurricane Fiona, which caused an island-wide power outage and significant flooding. GENM-A overcame the challenges of the storm by working closely — and often via virtual collaboration tools — with project stakeholders, including TYAD, the 7th Signal Command, 93rd Signal Brigade, Army Reserve Command, Army Cyber Command, the Synthetic Training Environment Network Cross-Functional team and the Fort Buchanan system integration team. 
According to Carlos Morales, Fort Buchanan NEC director, the NETMOD 2.0 project was one of the most efficient fieldings they have ever experienced.
"Throughout the life of the NETMOD 2.0 effort, GENM-A fielded over 32,000 edge access switches to 44 installations within CONUS," said Project Officer Jennifer Chavez. "The purpose of our mission is to standardize the U.S. Army's installation network architectures and enhance network security by reducing the number of entry and exit points. In addition to this, the deployment of NETMOD 2.0 hardware allowed GENM-A to remove end-of-life devices from the network. I am extremely proud of the work done by all stakeholders throughout this mission. Despite the challenges and impacts we faced during the height of the pandemic, as well as manufacturing and shipping delays we experienced during NETMOD 2.0, team members came together and identified creative solutions to overcome every obstacle."
In FY23 and FY24, CONUS NETMOD will be paused so GENM-A can focus on the Global Secret Internet Protocol Router Network and voice modernization efforts — two of the U.S. Army's main priorities. GENM-A will resume its NETMOD efforts in FY25 using a comprehensive modernization approach to address the modernization needs of the installations. Under this strategy, GENM-A will award a contract to one system integrator, which will modernize all pertinent GENM-A capabilities — including the hardware to support these projects, by installation.
GENM-A is part of PEO EIS' Integrated Enterprise Network portfolio.