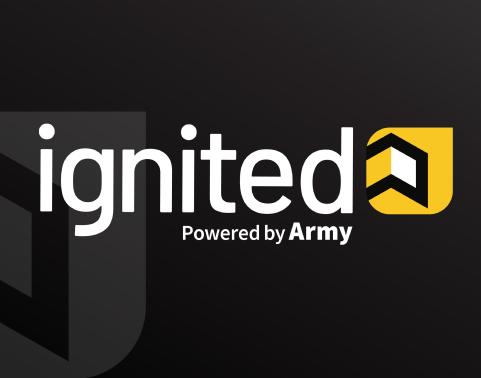 August 14, 2023
ArmyIgnitED achieved another key milestone in July with the release of functionality for Army civilians. With the latest capability release, the Army's voluntary education and training portal is now available to all user groups — Soldiers, cadets and civilians.   
According to the ArmyIgnitED team at the U.S. Army Program Executive Office Enterprise Information Systems (PEO EIS), civilian capability is being rolled out methodically, with the Army Civilian Career Management Agency (ACCMA) incrementally enabling workforce members to use the portal.
Initially, ACCMA opted to test the system with the Army's second largest career field of more than 40,000 civilians working in the human capital and resource management career field.
"This test allows us to work through any of the funding or technical issues and allows us to develop training to use the system," said Donald Harrison, ACCMA's program manager for ArmyIgnitED.
In fiscal year 2024, ACCMA will enable civilians in five other career fields and two divisions to access the new ArmyIgnitED functionality, so they can request funds for education, training and professional development opportunities. All approximately 235,000 civilians are eligible to use funds for training through ArmyIgnitED.
"We expect this new automation to make applying for training easier, and payment to academic institutions and vendors faster," Harrison said.  
"This marks the third leg of the stool in our delivery of the Army's enterprise voluntary education portal," said Keith Baylor, product lead for ArmyIgnitED at PEO EIS.
In late August 2023, ArmyIgnitED expects to achieve full deployment, which entails rolling out additional portal enhancements like audit capability and an interface with the Army's Integrated Personnel and Pay System – Army. Ideally, ArmyIgnitED leaders hope to field this final capability a few days in advance of their one-year anniversary in first delivering code.
Once full deployment has been achieved, the ArmyIgnitED team, which is part of PEO EIS's Defense Integrated Business Systems portfolio, will continue developing and releasing product enhancements via a continuous integration/continuous delivery process.
As of Aug. 9, 2023, ArmyIgnitED is serving nearly 253,000 users.