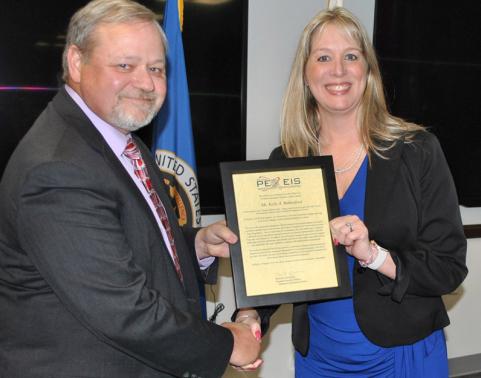 March 6, 2023
PEO EIS' Defense Integrated Business Systems (DIBS) Project Management Office held an assumption of charter ceremony Feb. 27 for the portfolio's newest product office, Foreign Military Sales – Army Case Execution System (FMS-ACES). DIBS Project Manager Kevin Curry, host of the ceremony, welcomed Kelly Rutherford as the new FMS-ACES product lead.
FMS-ACES' mission is to modernize the Army's legacy case implementation, execution and closure system known as the Centralized Integrated System for International Logistics (CISIL), which centrally manages FMS case logistics, financials and close-outs; synchronizes Army and DOD systems; and introduces supply requirements into the Army and DOD domestic supply systems.
"This is a program that will be blazing a new pathway in delivering critical capability to the Army and that will help with providing security assistance to our international allies," said Curry.
The U.S. Army Security Assistance Command will oversee the effort and use the program. In late 2022, PEO EIS was tasked with assuming ownership of the acquisition strategy. EIS' Acquisition Innovation Directorate leveraged its knowledge of best acquisition practices to promptly pull together a request for information from industry and to stand up the FMS-ACES product office under DIBS.
Based on industry input, the FMS-ACES team will determine what is in the realm of the possible to make the Army's new defense business system auditable, cyber-compliant and cloud-based. While FMS-ACES will not be part of the Army's Enterprise Business Systems – Convergence (EBS-C) initiative, it will interface with EBS-C's enterprise resource planning system components, including the General Fund Enterprise Business System (GFEBS).
Under Rutherford's leadership, the FMS-ACES team plans to take an Agile approach to software development with iterative delivery.
Rutherford is no stranger to large-scale software development projects. Before coming to FMS-ACES, she helped support PEO EIS' Integrated Personnel and Pay System – Army as deputy for Increment II, focusing on efforts to launch future capabilities for Soldier pay and transform the program into an Agile implementation organization. Before that, she supported EIS' Accessions Information Environment, AESIP Hub and GFEBS.
"I'm excited to see the modern technologies that industry has available to implement for a new Army Foreign Military Sales system," said Rutherford, adding that she looks forward to exploring different acquisition pathways to implement the program. "We are going places with FMS-ACES."