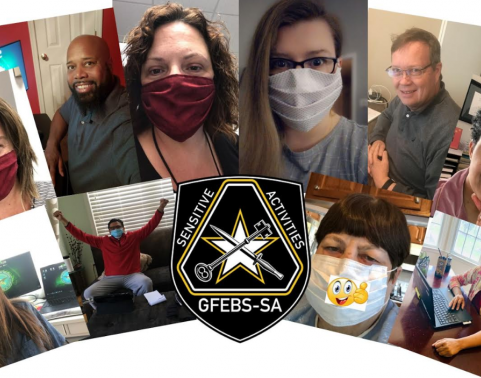 April 23, 2020
ARLINGTON, Va. – The General Fund Enterprise Business System – Sensitive Activities (GFEBS-SA) fielded and went "live" with the classified version of the Army's accounting, financial management and auditability software system to about 100 initial users at the National Ground Intelligence Center (NGIC) on Wednesday, April 15, 2020.
The GFEBS-SA solution provides security for extremely sensitive business transactions while also supporting the Army's goal of improving financial processes, controls and information via audit readiness. "GFEBS-SA is the first SAP Enterprise Resource Planning system, or ERP, with attribute-based, access-controlled, role implementation," said John Hubbard, technical manager with GFEBS-SA. "It's the first ERP in the Impact Level 6, or IL6 cloud environment, and first to implement cross-domain solutions for data protection, reporting and synchronization."
NGIC is a component of the United States Army Intelligence and Security Command (INSCOM) and is the primary provider of ground forces intelligence. NGIC delivers all-source and geospatial intelligence on foreign ground force capabilities, related military technologies, and geospatial intelligence targeting support to ensure that Army, Department of Defense, joint service and federal decision makers maintain decision advantage and prevent strategic surprise.
NGIC's RM team is eager to tackle this deployment and has been building workflow processes and SOPs in preparation for the roll-out of GFEBS-SA.
"We have an excellent team prepared to deploy GFEBS-SA in support of the Army's goal of improving audit readiness for sensitive activities," said Chip Thomas, NGIC's chief, budget execution.
Jeannie Winchester, GFEBS-SA product director, briefed the Army's Program Executive Officer for Enterprise Information Systems in early April and was granted authority to proceed with limited deployment of GFEBS-SA. According to Winchester, "while the deployment activates the high side version of GFEBS for those end-users who do their work on the Secret Internet Protocol Router Network (SIPRnet), it is our cutting-edge GFEBS-SA security features that are the heart of the solution." These features are what protect national security information and SA organizations by taking the safeguarding of financial data to the next level.
As the COVID-19 virus continued to spread – and most military, civilian and contractor personnel transitioned to fulltime telework status – the classified pre-rollout work that needed to be completed by the GFEBS-SA team to meet deployment objectives had to be performed in-person and on-premise in SIPR-supported offices.
"The GFEBS-SA team was able to come together and pull off a Herculean effort in the middle of a global pandemic," said Melissa Moreau, acting deputy product director for GFEBS-SA. "We had to determine what was within the realm of the possible while maintaining COVID-19 safety protocols. So much of the work we've done this past month was completely outside the scope of our original plan. We still had to complete all pre-deployment activities, while prioritizing the safety and health of our workforce. Our system integrator actually began working in shifts to maintain social distancing protocols in condensed SIPR workspaces and family members sewed masks to protect those who had to go into the office."
Due to COVID-19 safety protocols, the training team developed and rolled out a modified virtual training and orientation for new users, executed the week of April 6th. INSCOM staff were able to log-in via the Defense Information Systems Agency Secured Defense Collaboration Services web conferencing tool to attend required instructor led training. The instructors were part of a joint training team led by GFEBS-SA, the Assistant Secretary of the Army, Financial Management and Comptroller [ASA(FM&C)], and supported by the GFEBS-SA system integrator, Accenture Federal Services. Leveraging this new virtual training methodology, GFEBS-SA plans to implement rolling wave deployments as more users complete training.
Despite the global pandemic, Principal Deputy ASA(FM&C), Jonathan D. Moak, along with the functional community, believed it was imperative to deploy GFEBS-SA to the classified environment. The system will provide the Army with auditability and efficiencies not previously realized.
"This is a huge win," said Moreau. "Not just for our team and our customer, but for the entire Army. Despite some unimaginable circumstances, the GFEBS-SA team focused and completed the mission on time. If that's not Army Strong, I don't know what is."