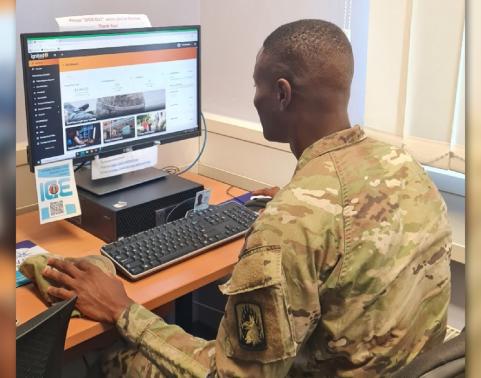 May 26, 2023
In April 2023, PEO EIS' ArmyIgnitED team hit a major milestone on its way to full deployment of the Army's voluntary education program. ArmyIgnitED implemented its interface with General Fund Enterprise Business System (GFEBS) to automate payment processing. The milestone brings ArmyIgnitED one step closer to hitting its August 2023 target date for full deployment across the Army.
As part of their professional development, Army Soldiers, cadets and civilians can participate in voluntary education — whether continuing their studies at a college or university, trade school or certification program. ArmyIgnitED provides a web portal for users to apply for education benefits. The system determines eligibility and tracks the approval and payment process for tuition assistance (TA), credentialing assistance (CA) and cadet assistance requests.
In one cohesive portal, ArmyIgnitED team members can verify eligibility, identify TA or CA limits as determined by the member's status, and now with the GFEBS implementation, can approve and submit invoices for payment.
"We've been doing this in phases," ArmyIgnitED's Deputy Project Lead Felishia Berry said of ArmyIgnitED's rollout. "We've been delivering these capabilities to user groups over time."
ArmyIgnitED's first phase launched in August 2022 and was for Soldiers' TA. The second phase was for adding CA, which rolled out in October 2022, followed by functionality for cadets in January 2023. Now that the GFEBS integration is complete, ArmyIgnitED is preparing to add civilians, the final user group. The ArmyIgnitED team is in a sprint toward the finish line as the full deployment target date approaches.
The key to executing against an aggressive, often changing schedule has been the agility of the ArmyIgnitED team to address shifting priorities and operational objectives.
"Things change, but we're going to keep pushing on," Berry said of the ArmyIgnitED team's mindset. "We're very agile." That mindset has kept the ArmyIgnitED phased rollout on schedule.
Col. John Dvorak, director of the Army Training and Doctrine Command's (TRADOC) Proponent Office for ArmyIgnitED, credited the system's initial success to the collaboration between teams.
"The successful pilot launch of the ArmyIgnitED/GFEBS interface reflects the phenomenal collaboration and teamwork among the TRADOC Proponent Office for ArmyIgnitED, the project management office, the GFEBS team, the voluntary education functional leads within Army ACCESS [Army Credentialing and Continuing Education Services for Soldiers], the Combined Arms Center G-8 and the BAM Technologies solution provider," Dvorak said. "When fully capable, the addition of GFEBS functionality will streamline academic institution and vendor payments, increase accountability of resources, and improve access to valuable voluntary education benefits for our Soldiers, ROTC [Reserve Officers' Training Corps] cadets and Army civilians. This achievement is a tremendous milestone for the Army's voluntary education enterprise."
Kevin Curry is the project manager for PEO EIS' Defense Integrated Business Systems (DIBS), which manages ArmyIgnitED. He added to Dvorak's thoughts. "The collaboration between our GFEBS and ArmyIgnitED programs, both within our DIBS portfolio, further demonstrates how agility and partnership are transforming the way the Army does business. In this case, the positive impact is on Soldier education," he said.
Prior to ArmyIgnitED, the legacy GoArmyEd system was effective and worked well, but it was built on outdated technology. Stability challenges arose when the legacy system was replaced, leading to a significant backlog of paperwork and unpaid tuition assistance requests (TARS). ArmyIgnitED was born to address those challenges.
Fast-forward to April 2023, and ArmyIgnitED's integration with GFEBS is paying dividends. The initial interface with GFEBS went live April 18-21, serving three academic institutions. Five additional academic institutions went live May 1, with the remaining locations scheduled to go live in June. Over $25 million in invoices have already been paid, and the TARS backlog has been drastically reduced.
"This is great because the institutions, Soldiers and civilians have been waiting for the capability to be restored," Berry said.
Keith Baylor, ArmyIgnitED's product lead, added to that sentiment. "GFEBS functionality is a game changer," he said.
ArmyIgnitED is currently serving over 212,000 users. That number continues to climb as more students take advantage of their education benefits.
The ArmyIgnitED team has been building program enhancements at every step along the way and will continue to do so as the program approaches full deployment in August 2023. The team's goal all along had been to release the final deliverable within one year of first release. If the final push goes to plan, that is exactly what the ArmyIgnitED team will achieve.