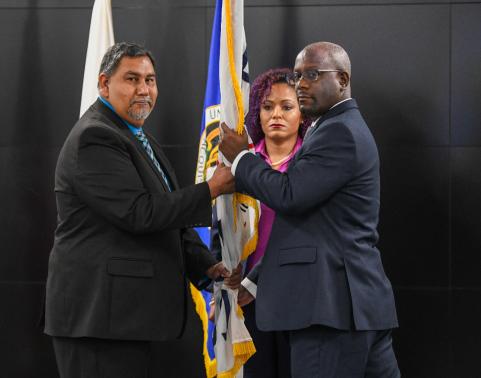 March 8, 2023
PEO EIS' Enterprise Services welcomed a new product lead, Kyle Tucker, Feb. 28 at an assumption of charter ceremony for the Enterprise – Identity, Credential and Access Management (E-ICAM) product office.
The mission of the newly created office is to establish a global, scalable, robust capability leveraging a single set of authoritative identity data to grant access to Army IT resources at the point of need, regardless of location, and to set the foundations for the zero trust architecture framework. The product office oversees three programs: Enterprise Access Management Services – Army (EAMS-A), the Army Master Identity Directory (AMID) and Multi-Factor Authentication (MFA).
Sergio Alvarez, acting project director for Enterprise Services, served as host of the ceremony and described the importance of the newly chartered product office.
"No doubt, E-ICAM is one of the biggest programs we have in our portfolio that's going to deliver needed capability to enable zero trust across the Army and federate with our DOD partners," said Alvarez. "Kyle's got a huge mission, and I know he's up to the task."
Tucker, who has over two decades of service as an Army civilian, shared his career ascent from completing a matrix assignment with PEO EIS' Defense Communications and Army Transmission Systems at Fort Monmouth, New Jersey to deploying as an Army civilian to Afghanistan, Iraq and Kuwait to build out communications facilities; serving as project lead for Army Knowledge Online; and eventually landing at EIS' Defensive Cyber Operations (DCO).
"Five years ago, we started a program to put together infrastructure capability for our cyber forces," said Tucker. "Using other transaction agreements, in 64 days, we were able to get a prototype together that now is the capability used by our defensive forces to defend our key terrains in cyberspace."
Tucker thanked the leaders of PEO EIS for supporting his career growth.
"You've helped me hone my career," said Tucker. "I'm looking forward to watching the future generation and those I have the privilege of training in this new position to someday take their place at the podium and take their assumption of charter."
To view the E-ICAM assumption of charter in its entirety, please visit the PEO EIS YouTube page.