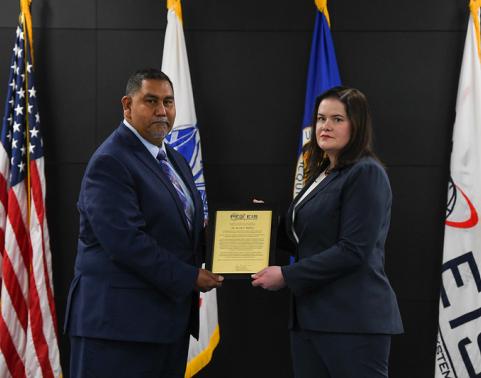 December 20, 2022
PEO EIS' Computer Hardware, Enterprise Software and Solutions (CHESS) product office held an assumption of charter ceremony Dec. 9 at the Forge at Fort Belvoir.
During the ceremony — hosted by Sergio Alvarez, acting project director of EIS' Enterprise Services Project Management Office —Sarah Mullins officially assumed the role of CHESS product lead. In that capacity, she leads a team responsible for establishing and maintaining no-fee, flexible contracts through which Army customers procure commercial off-the-shelf IT hardware, software and services via an online ordering system known as the CHESS IT e-mart.
Mullins was commissioned into the Army Signal Corps in 2004, serving in various strategic and tactical organizations before transitioning in 2012 to the Army Acquisition Corps. In 2016, she left active duty and entered civil service with PEO EIS, serving as assistant product manager for the Installation Information Infrastructure Modernization Program. After that, she joined EIS' Global Enterprise Network Modernization – OCONUS, providing network, information and infrastructure modernization services supporting two combatant commands and two Army service component commands across the European theater. Most recently, Mullins served as senior project officer for EIS' Defensive Cyber Operations Project Management Office, supporting foreign military sales projects on information and infrastructure modernization for partner and coalition nations.
Upon presenting Mullins with the CHESS charter, Alvarez said his new product lead was coming to the program "at a critical time" when the Army is determining how it will deliver IT services and solutions across its multi-domain and unified network.
"CHESS will be looked to for providing complex software solutions to the Army and will work closely with ASA(ALT) [the Assistant Secretary of the Army for Acquisition, Logistics and Technology] to provide innovative contract solutions for delivering AI [artificial intelligence], robotic process automation and data utilization," said Alvarez.
In her first remarks as product lead, Mullins said she was "thrilled to be back home at EIS headquarters" and looks forward to supporting EIS' mission at home and abroad.
Mullins' predecessor as CHESS product lead, Wayne Sok, relinquished the charter in June 2022 to serve in a developmental role as acting product director for EIS' Army Human Resource Systems.
The CHESS assumption of charter ceremony was live streamed, and the recording can be viewed on EIS' YouTube channel.