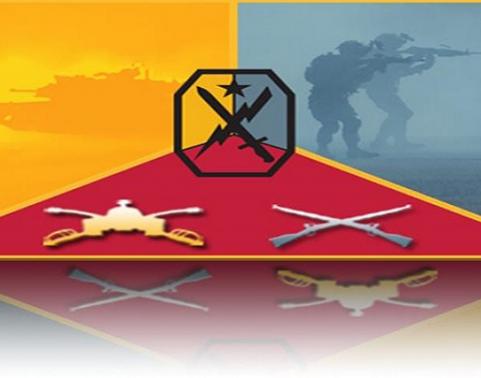 May 27, 2020
FORT BENNING, Ga. - "It must not be forgotten that the true use of history, military or civil…is not to make men clever for the next time; it is to make them wiser forever."
British military historian Sir Michael Howard wrote this passage to a generation of officers in 1961.
To put in perspective what he meant, not every lesson from World War I or Vietnam is relevant to the challenges modern maneuver leaders face in combat.
But what can and should always resonate with future maneuver leaders are lasting examples, often paid for in the blood of our Soldiers, of how our Army adapted in every conflict to changes in technology, environment and a long list of determined and creative enemies. 
With that in mind, the Maneuver Center of Excellence (MCoE) Headquarters Donovan Research Library at Fort Benning, Georgia provides infantry and armor leaders with a repository of historical information. The library is currently expanding its virtual offerings.
"Our virtual branch consists of access to databases, links to other institutions, open source digitized materials of historical documents, personal experience student papers beginning with World War I, and historical newspapers used by customers, students, Soldiers, instructors and historians at the MCoE and worldwide," said Genoa Stanford, senior reference/systems librarian at the G3 Library Division, MCoE Headquarters Donovan Research Library.
The library originated in 1907 when General Arthur MacArthur, father of General Douglas MacArthur, donated 20 books to establish a library for the School of Musketry at the Presidio of Monterey, in Monterey, California. The Musketry Library was later relocated from California to Fort Sill, Oklahoma and became the Infantry School of Arms Library. But by October 1918, with a small collection of 1,725 books, the Infantry Library finally relocated to Fort Benning, Georgia. Then, in 1980, the name of the library was changed to Donovan Technical Library in honor of William "Wild Bill" Donovan, a Medal of Honor recipient and "father of the Central Intelligence Agency."
In 2013, the Donovan Research Library merged with the Armor School Library to form the G3/Maneuver Center of Excellence Library Division, which now includes over 250,000 print and digital materials, staff and equipment housed at McGinnis-Wickam Hall, adjacent to the Maneuver Center of Excellence Headquarters.
"The G3/Maneuver Center of Excellence Library Division supports the training of Soldiers," said Stanford. "MCoE Libraries provide academic reference, doctrinal research and bibliographic services in support of the students, faculty and staff of the Maneuver Center of Excellence. The Library Division provides reach-back capability from the force worldwide to the MCoE."
One of Stanford and the Donovan Research Library's ongoing projects is the maintenance of Army Knowledge Online (AKO) and AKO-Secret Internet Protocol Router Network (SIPRNet) Communities, which store and restrict access to over 600 Army Writing Program (AWP) monographs. These monographs are written firsthand by students who attended the Maneuver Captains Career Course (MCCC), and they describe their combat experiences during Operation Enduring Freedom, Operation Iraqi Freedom and Operations Other Than War.
"These papers represent information for lessons learned and training," said Stanford. "The information is collected by the MCoE Command and Tactics Directorate (CATD) and Communicative Skills Branch."
Back in 2003, Stanford was tasked with finding a secure and restricted location for the lessons learned and training-purpose-only papers. She was referred to the AKO administrator to set up knowledge centers under AKO, rather than putting them on a server at the Directorate of Information Management.
"The AKO administrator assisted me with setting up three knowledge centers to house the papers, which I could then restrict to certain AKO community members such as Active [Duty] Army, Army National Guard and Department of the Army civilians," said Stanford. "That process really worked well and allowed me to secure the documents, restricting access to those AKO community groups as directed by the CATD communicative skills branch chief."
Now that AKO Classic has transitioned to AKO 2.0, Stanford is currently moving the current collections to the new site while restricting access the same way.
"The target audience is beginning to use the three restricted communities with over 600 student papers," said Stanford. "Since the members are added by EDIPI [Electronic Data Interchange Personal Identifier] number versus in community groups, I created a Donovan Library Homepage in AKO 2.0 as the open access landing page and created a fourth community called "Request to Join" as a way to monitor the requestors needing access to the restricted communities."
By doing that, Stanford can review the requests to join and add folks individually to each of the three restricted communities, simply deleting them from the fourth "Join" community.
"It seems like a lot of work, but it has worked really well," said Stanford. "I put the link to our homepage in AKO 2.0, which has the "Request to Join" community page link on it, so it's easy to find. I then check for access and send applicants an email once I've allowed them to join."
For organizations that need a place to store content or a secure environment with ways to limit access, Stanford insists that AKO 2.0 is a great place to start.
"I was able to complete one-on-one training with one of the AKO community administrators who was extremely helpful," she said. "He listened to find out what I needed, which was how to restrict the communities and how I could add members. He was very knowledgeable and patient, and was able to walk me through how to create, restrict and maneuver through the communities. I'm pretty good at working my way through the site now, so I would recommend that anyone who has questions or concerns contact AKO for assistance."
Stanford's work involving storing and properly sharing and restricting the AWP monographs has resulted in some of the information from those vignettes being vetted and ultimately included in two books edited and published by former Communications Skills Branch Chief Joanie Horton: Infantry in Battle from Somalia to the Global War on Terrorism (2005) and Maneuver Force in Battle (2015).
In the introduction to Maneuver Force in Battle, Commander, MCoE, Maj. Gen. Austin S. Miller, said the work represents the first endeavor by the students and instructors at MCoE – not just infantry, armory or cavalry – but a combined arms effort, "studying together in the same way as they fight together."
"I believe that professional military education remains a core component of our profession," said Miller. "An excellent way to begin the discussion is to study the combat experiences of our maneuver leaders who integrated combat arms in their conflicts."
For more information or to request an AKO community for your Army unit or organization, visit: https://www.us.army.mil/content/armyako/en/community-site-request.html. Also, for more information on the MCoE Library's Virtual Branch, visit: https://www.benning.army.mil/library.