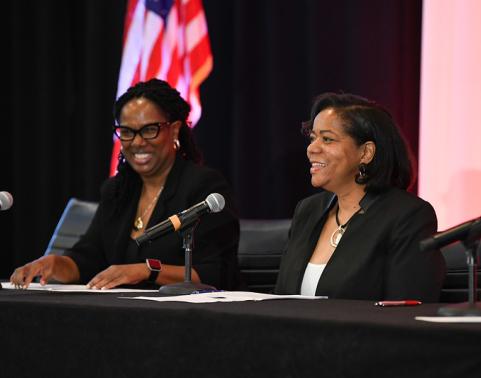 December 5, 2022
From Nov. 7-9, 2022, PEO EIS' Computer Hardware, Enterprise Software and Solutions (CHESS) attended and exhibited at AFCEA Belvoir Industry Days in Chantilly, Virginia. Stacy Watson, enterprise solutions director, and Ylander Jones, hardware and services lead for the CHESS product office, provided the current status of the CHESS ITES-3S contract vehicle, to include contract performance and where the office is with the follow-on actions for ITES-4S. The product office also used the session as an opportunity to collect feedback from industry on ways to improve and help shape the new ITES-4S procurement vehicle.
Following are four takeaways about 4S:
1)    First and foremost, its predecessor, ITES-3S, has been a success.
By updating and adding task areas and labor categories to the contract vehicle, the CHESS product office was able to broaden the scope of the contract. In the fourth quarter of fiscal year 2022 alone, ITES-3S yielded 237 requests for proposal, 355 requests for information and 228 requests for proposal from small businesses. ITES-3S had an overall contract spend of $741,769,113.27 through Sept. 30, 2022.
2)    Despite being at an early stage of development, some facts are clear about ITES-4S.
The new contract vehicle will have an estimated $12.1 billion ceiling and be open to Army, DOD and federal agencies. It will be a firm-fixed-price, time-and-materials, cost-plus contract using North American Industry Classification System (NAICS) Code 541519: "Other Computer Related Services" — and potentially additional NAICS codes. The contract will be similar in scope to ITES-3S.
3)    The next stages and success of the contract's fourth generation are dependent on feedback and market research.
Among the items that CHESS is considering adding to ITES-4S are multiple NAICS codes, two sets of suites (high-end vs. low-end), 8(a) set-asides, more small-business goals and a requirement for vendors to provide additional details on their websites about current partners, subcontractors and the benefits of partnering with them. What CHESS needs from industry are white papers, evaluation processes for pricing in light of geographical locations and inflation, best practices from other service-type contracts, and feedback about the new labor categories and task areas on ITES-3S.
4)    4S market research starts now.
CHESS is conducting market research and has begun gathering data and feedback. A questionnaire and future industry day are in the works. To share your thoughts, please contact Alex Pham, public affairs officer, at alexander.q.pham2.ctr@army.mil.