Image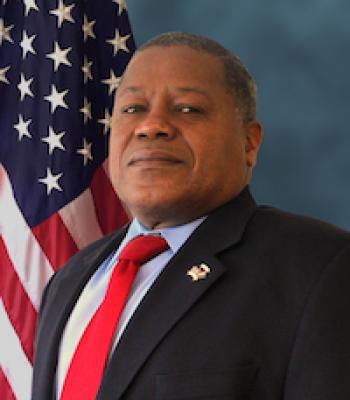 Garnard "Gus" W. Burnside, II became the product lead for the Army Enterprise Staff Management System (AESMS) in July 2019. In this role, he is responsible for providing overall guidance and direction for the acquisition, deployment and sustainment of task management systems for two portfolios under AESMS: Army Software Marketplace (ASM) and the Task Management Tool (TMT). ASM provides a one-stop apps store technology service to support the Army's chief information officer. TMT provides seamless tasking collaboration, supporting the DOD chief management officer.
Prior to his role at AESMS, Burnside was assigned to the Deputy Assistant Secretary of Defense for Counternarcotics and Global Threats (DASD-CN/GT) at U.S. Africa Command from 2008 to 2012. He served as a counternarcotics officer, managing counternarcotics and law enforcement programs for 11 countries in west and central Africa. He also served in the DOD civilian expeditionary workforce as the director of Emergency Services and Law Enforcement at Bagram Air Base, Afghanistan. His first Army civilian position was at headquarters, U.S. Army Europe in Heidelberg, Germany, where he was the G-3, chief watch operations officer from 2006 to 2008.
Burnside entered military service as an Army aviation operations specialist in 1982. During his time on active duty, his assignments included: operations sergeant for Task Force 158, with deployment to Operation Restore Hope, Somalia; first sergeant for 6/6 Cavalry, Germany; theater aviation sergeant major, headquarters U.S. Army Europe, with deployments to Kosovo and Albania; aviation sergeant major, Third U.S. Army, with deployments to Iraq and Afghanistan.
His awards include: the Superior Civilian Service Medal in 2014; Joint Civilian Service Commendation Award in 2012; and the Commander's Award for Civilian Service in 2008. Burnside's military decorations include: the Legion of Merit Medal, Bronze Star Medal, the Meritorious Service Medal (2 Oak Leaf Clusters), the Army Commendation Medal (3), the Army Achievement Medal (4), Good Conduct Medal (8), National Defense Service Medal, Armed Forces Expeditionary Medal, Global War on Terrorism Expeditionary Medal, Global War on Terrorism Service Medal, Southwest Asia Service Medal, Armed Forces Service Medal, Non-Commissioned Officer Professional Development Ribbon (4), Army Service Ribbon, Overseas Service Ribbon (6) and Master Aviation Badge.
Burnside earned a Bachelor of Science in aeronautical science and a Master of Science with dual specialization in aerospace operations and aerospace safety from Embry Riddle Aeronautical University. He also holds a certificate from the National Defense University in African strategic studies and is a member of the Army Acquisition Corps. He holds an advanced Defense Acquisition Workforce Improvement Act certification in Program Management and a foundational-level certification in Engineering and Technical Management.