Image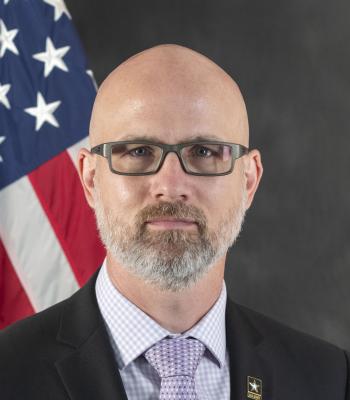 Director, Acquisition Innovation Directorate
,
Aric Sherwood currently serves as the director of the Acquisition Innovation Directorate (AID) at PEO EIS. In that capacity, he is responsible for incubating new acquisition programs for eventual transition to one of EIS's six project management offices, as well as for ensuring that all acquisition documentation for all programs is understood, complete and correct. Additionally, he provides general acquisition advice to EIS acquisition professionals across all assigned programs.
Prior to joining the directorate — which until February 2022 was known as the Director, Acquisition Systems Management/Strategic Initiatives Group — Sherwood completed a 120-day developmental assignment as acting assistant program executive officer for Networks, Cyber and Services. In that role, he oversaw EIS's Enterprise Information Environment Mission Area — a portfolio of three project offices focused on network modernization, defensive cyber operations and enterprise services.
Previously, Sherwood served from June 2020 to June 2021 as acting project manager for EIS's Defense Communications and Army Transmission Systems (DCATS), which provides strategic satellite and terrestrial communications programs that support the Army, Joint Services, National Command Authority and combatant commanders. He stepped into the acting role after serving since 2018 as deputy project manager of DCATS.
Before that, he served as the director for ASA(ALT) Special Programs, where he led a team that provided security oversight and coordinated with Army and DOD leaders for all acquisition actions for the Army's most sensitive programs.
Sherwood began his civilian career in 2001 as an engineer at the Night Vision and Electronic Sensors Directorate at Fort Belvoir, Virginia. There, he was responsible for the development of infrared and thermal imaging devices for dismounted Soldiers. He then served as the assistant program manager for Visual Augmentation Systems at the U.S. Special Operations Command and was responsible for the cost, schedule and performance of assigned programs in support of the nation's most elite Soldiers. He served in several additional leadership positions, culminating as the product director for Command, Control, Communications, Computers, Intelligence, Surveillance and Reconnaissance, where he led a staff of 25 military officers, government civilians and contractors in the execution of multiple programs with a budget of over $200 million annually. In 2014, he became the deputy program manager for the Defense Continuity Integrated Network – Top Secret Program at the Defense Information Systems Agency. As deputy, Sherwood supported the program manager in managing the cost, schedule and performance of multiple national-level requirements.
Prior to his civilian career, Sherwood served for four years on active duty in the Army. He attended Basic, Infantry and Airborne Training, and the Ranger Indoctrination Program at Fort Benning, Georgia. He was assigned to the 3rd Ranger Battalion, 75th Ranger Regiment, where he served with distinction. He graduated from Ranger School, the Primary Leadership Development Course, the Jumpmaster Course and the Fast Rope Master Course, and was honorably discharged.
Sherwood received bachelor's and master's degrees in mechanical engineering, with a focus on dynamics, from Pennsylvania State University. He earned a master's degree in national resource strategy from the Dwight D. Eisenhower School for National Security and Resource Strategy in 2017. Sherwood is a graduate of the U.S. Army Management Staff College Advanced Course, holds an advanced Defense Acquisition Workforce Improvement Act certification in Program Management, and is a member of the DOD and Army Acquisition Corps.