DEFENSIVE CYBER OPERATIONS - CYBER TALKS™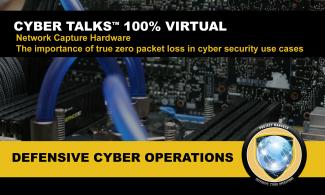 Other Transaction Authority (OTA) Agreement Announcement
W52P1J-19-9-5023
NOTICE TO PARTICIPANTS:  DUE TO THE RESTRICTIONS ON GROUP GATHERINGS IMPOSED BY THE COVID-19 CONDITIONS, THIS CYBER TALK FOR NETWORK CAPTURE HARDWARE WILL BE EXECUTED IN A TOTALLY VIRTUAL VENUE. NO PARTICIPANTS ARE PERMITTED AT THE FORGE ON THE DAY OF THE EVENT.  ALL WHO DESIRE TO PARTICIPATE MUST DO SO VIA THE WEBEX LISTED BELOW.
PREREGISTRATION IS NOT REQUIRED!
DATE: April 23, 2020
TIME: 1 p.m. - 3 p.m. EDT
 
The Importance of True Zero Packet Loss in Cyber Security Use Cases!
Defensive Cyber Operations (DCO) is pleased to announce the next in a series of CYBER TALKS™. This series will be an informational and educational briefing by Napatech Inc. and guest Axellio Inc. for Network Capture Hardware. The intended audience includes interested industry vendors, government personnel, contractors and SOSSEC Consortium members. This event is a virtual collaborative session that enables participants to discuss topics directly related to better understand the DCO mission.
Napatech will discuss its FPGA-based SmartNIC technology and how it can guarantee that there are zero packets dropped in the process of capturing network packets at speeds of up to 100 Gbps. When trying to find the root cause, or reproducing a past event on the network, having 100% of the packet data is extremely important. A single missing packet can make it difficult to isolate the events that may have caused a network data breach or other cybersecurity event. In addition, the importance of zero packet loss to other cybersecurity use cases—including intrusion detection systems (IDS) and intrusion prevention systems (IPS)—can benefit from this technology will also be discussed. Napatech will also present other capabilities including network virtualization acceleration in data centers.
Network Packet Capture is an essential element required by many missions with the DoD, Wall Street and primes contractors like Axellio. This session will focus on the importance of lossless packet capture to the mission at speeds up to 100 Gbps while indexing and persisting these packets for further research and analysis of an anomalous network event.  
Axellio will discuss its capability to integrate the functions of the Napatech FPGA-based SmartNIC into a very high-performance dual server chassis with the capability to persist and index captured packets at 100 Gbps (12.5 Gigabytes stored and indexed per second) without packet loss. Axelio will also discuss functions like Network Capacity Planning and Optimization, load balancing/buffering for real time alerts and analytics.
The session listed above will be held exclusively on WebEx.
WEBEX
Please login 5 minutes early for a prompt start at 1 p.m.
Ed Aguirre invites you to join this WebEx meeting.
When it's time, start your WebEx meeting here.
Meeting number (access code): 900 646 698
Meeting password: Forge5
URL: https://sossec.webex.com/sossec/j.php?MTID=ma86347c5534bb5919204f18b3c810a63;
Host key: 823767
Thursday, April 23, 2020
1:00 pm  |  (UTC-04:00) Eastern Time (US & Canada)  |  2 hrs.
Join by phone
Tap to call in from a mobile device (attendees only)
+1-415-527-5035 US Toll