Cyber Talks - Nuix, Taking Back the Host: State of the Art Endpoint Detection and Investigation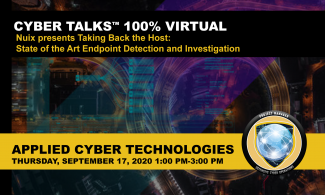 Program Executive Office Enterprise Information Systems (PEO EIS), Applied Cyber Technologies (ACT) is pleased to announce the next in a series of CYBER TALKS. The intended audience is government personnel, contractors, SOSSEC Consortium Members, and industry vendors and academia and those interested in working with U.S. Army Cyber Command (ARCYBER) and the Defensive Cyber Operations (DCO) in the cyber domain. This event gives participants the opportunity to collaborate with U.S. Army cyber leaders though interactive engagement and discussion on topics directly related to better understanding DCO and the cyberspace mission. 
PRE-REGISTRATION IS NOT REQUIRED. HOWEVER, EACH PARTICIPANT IS REQUIRED TO SUBMIT THEIR NAME AND COMPANY AFFILIATION ON ENTERING THE WEBEX.  FAILURE TO DO SO MAY RESULT IN BEING DROPPED FROM THE CYBER TALK.
Speakers:  Nuix:  Hoke Smith, VP Cybersecurity,  Bob O'Leary, CFCE; DFCP, Head of Investigations
Continued rapid changes in cyber threats and enterprise infrastructure require faster, more scalable, more efficient approaches to endpoint security. Attendees will learn about the current challenges to effective endpoint threat detection and investigation and hear Nuix's perspective on what constitutes the state-of-the-art in event-based and traditional disk forensics. Session will be of interest to defensive cyber planners and practitioners, those responsible for digital investigations, and service providers offering advisory or operational support around endpoint security.
Who should attend?
Program managers, development teams, engineers, architects, ISSO's, security managers, security specialists, and system administrators who are eager to learn about DCO platform architectures and modern application development techniques. This event is intended to educate all professionals who support these initiates.
The two-hour session will allow for questions and answers.
Meeting URL: https://sossec.webex.com/webappng/sites/sossec/meeting/download/1ce90cd6780f4ffda02feeaa9ef8da7d?siteurl=sossec&MTID=ma0dfbf88fd966a69f1c621eb025105ce
Meeting number (access code): 199 969 4320
Thursday, September 17, 2020
1:00 pm  |  (UTC-04:00) Eastern Time (US & Canada)  |  2 hrs
Join by phone
Tap to call in from a mobile device (attendees only)
+1-415-527-5035 US Toll
Join from a video system or application
Dial 1999694320@sossec.webex.com
Join using Microsoft Lync or Microsoft Skype for Business
Dial 1999694320.sossec@lync.webex.com